@charset "UTF-8";:root {--blue:#007bff;--indigo:#6610f2;--purple:#6f42c1;--pink:#e83e8c;--red:#dc3545;--orange:#fd7e14;--yellow:#ffc107;--green:#28a745;--teal:#20c997;--cyan:#17a2b8;--white:#fff;--gray:#6c757d;--gray-dark:#343a40;--primary:#2568EF;--secondary:#EAEDF2;--success:#28a745;--info:#17a2b8;--warning:#ffc107;--danger:#dc3545;--light:#F7F9FC;--dark:#2C3038;--primary-2:#FF564F;--primary-3:#051B35;--breakpoint-xs:0;--breakpoint-sm:576px;--breakpoint-md:768px;--breakpoint-lg:992px;--breakpoint-xl:1200px;--font-family-sans-serif:"Nunito",-apple-system,BlinkMacSystemFont,"Segoe UI",Roboto,"Helvetica Neue",Arial,"Noto Sans",sans-serif,"Apple Color Emoji","Segoe UI Emoji","Segoe UI Symbol","Noto Color Emoji";--font-family-monospace:SFMono-Regular,Menlo,Monaco,Consolas,"Liberation Mono","Courier New",monospace} *,::after,::before {box-sizing:border-box} html {font-family:sans-serif;line-height:1.15;-webkit-text-size-adjust:100%;-webkit-tap-highlight-color:transparent} .textcenter,article,aside,figcaption,figure,footer,header,main,nav,section {display:block} body {margin:0;font-family:Nunito,-apple-system,BlinkMacSystemFont,"Segoe UI",Roboto,"Helvetica Neue",Arial,"Noto Sans",sans-serif,"Apple Color Emoji","Segoe UI Emoji","Segoe UI Symbol","Noto Color Emoji";font-size:1rem;font-weight:600;line-height:1.5;color:#555a64;text-align:left;background-color:#fff} [tabindex="-1"]:focus {outline:0!important} hr {box-sizing:content-box;height:0;overflow:visible} h1,h2,h3,h4,h5,h6 {margin-top:0;margin-bottom:1rem} p {margin-top:0;margin-bottom:1rem} address {margin-bottom:1rem;font-style:normal;line-height:inherit} dl,ol,ul {margin-top:0;margin-bottom:1rem} ol ol,ol ul,ul ol,ul ul {margin-bottom:0} dt {font-weight:500} dd {margin-bottom:.5rem;margin-left:0} blockquote {margin:0 0 1rem} .bold,b,strong {font-weight:bolder} small {font-size:80%} sub,sup {position:relative;font-size:75%;line-height:0;vertical-align:baseline} sub {bottom:-.25em} sup {top:-.5em} a {color:#2568ef;text-decoration:none;background-color:transparent} a:hover {color:#0e47ba;text-decoration:none} a:not([href]):not([tabindex]) {color:inherit;text-decoration:none} a:not([href]):not([tabindex]):focus,a:not([href]):not([tabindex]):hover {color:inherit;text-decoration:none} a:not([href]):not([tabindex]):focus {outline:0} code,pre {font-family:SFMono-Regular,Menlo,Monaco,Consolas,"Liberation Mono","Courier New",monospace;font-size:1em} pre {margin-top:0;margin-bottom:1rem;overflow:auto} .textcenter,figure {margin:0 0 1rem} img {vertical-align:middle;border-style:none} svg {overflow:hidden;vertical-align:middle} table {border-collapse:collapse} caption {padding-top:.75rem;padding-bottom:.75rem;color:rgba(85,90,100,.65);text-align:left;caption-side:bottom} th {text-align:inherit} label {display:inline-block;margin-bottom:.5rem} button {border-radius:0} button:focus {outline:1px dotted;outline:5px auto -webkit-focus-ring-color} button,input,optgroup,select,textarea {margin:0;font-family:inherit;font-size:inherit;line-height:inherit} button,input {overflow:visible} button,select {text-transform:none} select {word-wrap:normal} [type=button],[type=reset],[type=submit],button {-webkit-appearance:button} [type=button]:not(:disabled),[type=reset]:not(:disabled),[type=submit]:not(:disabled),button:not(:disabled) {cursor:pointer} [type=button]::-moz-focus-inner,[type=reset]::-moz-focus-inner,[type=submit]::-moz-focus-inner,button::-moz-focus-inner {padding:0;border-style:none} input[type=checkbox],input[type=radio] {box-sizing:border-box;padding:0} input[type=date],input[type=datetime-local],input[type=month],input[type=time] {-webkit-appearance:listbox} textarea {overflow:auto;resize:vertical} fieldset {min-width:0;padding:0;margin:0;border:0} legend {display:block;width:100%;max-width:100%;padding:0;margin-bottom:.5rem;font-size:1.5rem;line-height:inherit;color:inherit;white-space:normal} @media (max-width:1200px) {legend {font-size:calc(1.275rem + .3vw)} } progress {vertical-align:baseline} [type=number]::-webkit-inner-spin-button,[type=number]::-webkit-outer-spin-button {height:auto} [type=search] {outline-offset:-2px;-webkit-appearance:none} [type=search]::-webkit-search-decoration {-webkit-appearance:none} ::-webkit-file-upload-button {font:inherit;-webkit-appearance:button} output {display:inline-block} summary {display:list-item;cursor:pointer} template {display:none} [hidden] {display:none!important} .h1,.h2,.h3,.h4,.h5,.h6,h1,h2,h3,h4,h5,h6 {margin-bottom:1rem;font-weight:500;line-height:1.2;color:#2c3038} .h1,h1 {font-size:2.5rem} @media (max-width:1200px) {.h1,h1 {font-size:calc(1.375rem + 1.5vw)} } .h2,h2 {font-size:2rem} @media (max-width:1200px) {.h2,h2 {font-size:calc(1.325rem + .9vw)} } .h3,h3 {font-size:1.75rem} @media (max-width:1200px) {.h3,h3 {font-size:calc(1.3rem + .6vw)} } .h4,h4 {font-size:1.5rem} @media (max-width:1200px) {.h4,h4 {font-size:calc(1.275rem + .3vw)} } .h5,h5 {font-size:1.25rem} .h6,h6 {font-size:1rem} .lead {font-size:1.25rem;font-weight:400} .display-3 {font-size:4.5rem;font-weight:500;line-height:1} @media (max-width:1200px) {.display-3 {font-size:calc(1.575rem + 3.9vw)} } .display-4 {font-size:3.5rem;font-weight:500;line-height:1} @media (max-width:1200px) {.display-4 {font-size:calc(1.475rem + 2.7vw)} } hr {margin-top:1.5rem;margin-bottom:1.5rem;border:0;border-top:1px solid #eaedf2} .small,small {font-size:.75rem;font-weight:600} .mark,mark {padding:.2em;background-color:#ffecbf} .list-unstyled {padding-left:0;list-style:none} .blockquote {margin-bottom:1rem;font-size:1.25rem} .img-fluid {max-width:100%;height:auto} .figure {display:inline-block} code {font-size:87.5%;color:#e83e8c;word-break:break-word} a>code {color:inherit} pre {display:block;font-size:87.5%;color:#2c3038} pre code {font-size:inherit;color:inherit;word-break:normal} .container {width:100%;padding-right:12px;padding-left:12px;margin-right:auto;margin-left:auto} @media (min-width:576px) {.container {max-width:540px} } @media (min-width:768px) {.container {max-width:720px} } @media (min-width:992px) {.container {max-width:960px} } @media (min-width:1200px) {.container {max-width:1140px} } .row {display:flex;flex-wrap:wrap;margin-right:-12px;margin-left:-12px} .no-gutters {margin-right:0;margin-left:0} .no-gutters>.col,.no-gutters>[class*=col-] {padding-right:0;padding-left:0} .col,.col-10,.col-12,.col-5,.col-auto,.col-lg,.col-lg-4,.col-lg-5,.col-lg-6,.col-lg-7,.col-lg-8,.col-lg-9,.col-md-10,.col-md-3,.col-md-4,.col-md-6,.col-md-7,.col-md-8,.col-md-9,.col-md-auto,.col-sm,.col-sm-8,.col-sm-9,.col-sm-auto,.col-xl-4,.col-xl-5,.col-xl-6,.col-xl-7,.col-xl-8,.col-xl-9,.col-xl-auto {position:relative;width:100%;padding-right:12px;padding-left:12px} .col {flex-basis:0;flex-grow:1;max-width:100%} .col-auto {flex:0 0 auto;width:auto;max-width:100%} .col-5 {flex:0 0 41.66667%;max-width:41.66667%} .col-10 {flex:0 0 83.33333%;max-width:83.33333%} .col-12 {flex:0 0 100%;max-width:100%} .order-3 {order:3} @media (min-width:576px) {.col-sm {flex-basis:0;flex-grow:1;max-width:100%} .col-sm-auto {flex:0 0 auto;width:auto;max-width:100%} .col-sm-8 {flex:0 0 66.66667%;max-width:66.66667%} .col-sm-9 {flex:0 0 75%;max-width:75%} } @media (min-width:768px) {.col-md-auto {flex:0 0 auto;width:auto;max-width:100%} .col-md-3 {flex:0 0 25%;max-width:25%} .col-md-4 {flex:0 0 33.33333%;max-width:33.33333%} .col-md-6 {flex:0 0 50%;max-width:50%} .col-md-7 {flex:0 0 58.33333%;max-width:58.33333%} .col-md-8 {flex:0 0 66.66667%;max-width:66.66667%} .col-md-9 {flex:0 0 75%;max-width:75%} .col-md-10 {flex:0 0 83.33333%;max-width:83.33333%} } @media (min-width:992px) {.col-lg {flex-basis:0;flex-grow:1;max-width:100%} .col-lg-4 {flex:0 0 33.33333%;max-width:33.33333%} .col-lg-5 {flex:0 0 41.66667%;max-width:41.66667%} .col-lg-6 {flex:0 0 50%;max-width:50%} .col-lg-7 {flex:0 0 58.33333%;max-width:58.33333%} .col-lg-8 {flex:0 0 66.66667%;max-width:66.66667%} .col-lg-9 {flex:0 0 75%;max-width:75%} .order-lg-2 {order:2} .order-lg-3 {order:3} } @media (min-width:1200px) {.col-xl-auto {flex:0 0 auto;width:auto;max-width:100%} .col-xl-4 {flex:0 0 33.33333%;max-width:33.33333%} .col-xl-5 {flex:0 0 41.66667%;max-width:41.66667%} .col-xl-6 {flex:0 0 50%;max-width:50%} .col-xl-7 {flex:0 0 58.33333%;max-width:58.33333%} .col-xl-8 {flex:0 0 66.66667%;max-width:66.66667%} .col-xl-9 {flex:0 0 75%;max-width:75%} .order-xl-4 {order:4} } .table {width:100%;margin-bottom:1rem;color:#555a64} .table td,.table th {padding:.75rem;vertical-align:top;border-top:1px solid #eaedf2} .table thead th {vertical-align:bottom;border-bottom:2px solid #eaedf2} .table tbody+tbody {border-top:2px solid #eaedf2} .table-hover tbody tr:hover {color:#555a64;background-color:rgba(0,0,0,.075)} .btn {display:inline-block;font-weight:500;color:#555a64;text-align:center;vertical-align:middle;-webkit-user-select:none;-moz-user-select:none;-ms-user-select:none;user-select:none;background-color:transparent;border:2px solid transparent;padding:.625rem 1.5rem;font-size:1rem;line-height:1.5;border-radius:.3125rem;transition:color .15s ease-in-out,background-color .15s ease-in-out,border-color .15s ease-in-out,box-shadow .15s ease-in-out} @media (prefers-reduced-motion:reduce) {.btn {transition:none} } .btn:hover {color:#555a64;text-decoration:none} .btn.focus,.btn:focus {outline:0;box-shadow:0 0 0 .2rem rgba(37,104,239,.25)} .btn.disabled,.btn:disabled {opacity:.3;box-shadow:none} .btn:not(:disabled):not(.disabled).active,.btn:not(:disabled):not(.disabled):active {box-shadow:none} .btn:not(:disabled):not(.disabled).active:focus,.btn:not(:disabled):not(.disabled):active:focus {box-shadow:0 0 0 .2rem rgba(37,104,239,.25)} a.btn.disabled,fieldset:disabled a.btn {pointer-events:none} .btn-primary {color:#fff;background-color:#2568ef;border-color:#2568ef;box-shadow:none} .btn-primary:hover {color:#fff;background-color:#1054dd;border-color:#0f50d2} .btn-primary.focus,.btn-primary:focus {box-shadow:none,0 0 0 .2rem rgba(70,127,241,.5)} .btn-primary.disabled,.btn-primary:disabled {color:#fff;background-color:#2568ef;border-color:#2568ef} .btn-primary:not(:disabled):not(.disabled).active,.btn-primary:not(:disabled):not(.disabled):active,.show>.btn-primary.dropdown-toggle {color:#fff;background-color:#0f50d2;border-color:#0f4bc6} .btn-primary:not(:disabled):not(.disabled).active:focus,.btn-primary:not(:disabled):not(.disabled):active:focus,.show>.btn-primary.dropdown-toggle:focus {box-shadow:0 0 0 .2rem rgba(70,127,241,.5)} .btn-success {color:#fff;background-color:#28a745;border-color:#28a745;box-shadow:none} .btn-success:hover {color:#fff;background-color:#218838;border-color:#1e7e34} .btn-success.focus,.btn-success:focus {box-shadow:none,0 0 0 .2rem rgba(72,180,97,.5)} .btn-success.disabled,.btn-success:disabled {color:#fff;background-color:#28a745;border-color:#28a745} .btn-success:not(:disabled):not(.disabled).active,.btn-success:not(:disabled):not(.disabled):active,.show>.btn-success.dropdown-toggle {color:#fff;background-color:#1e7e34;border-color:#1c7430} .btn-success:not(:disabled):not(.disabled).active:focus,.btn-success:not(:disabled):not(.disabled):active:focus,.show>.btn-success.dropdown-toggle:focus {box-shadow:0 0 0 .2rem rgba(72,180,97,.5)} .btn-lg {padding:1.1875rem 2.25rem;font-size:1.25rem;line-height:1.5;border-radius:.3125rem} .btn-sm {padding:.34375rem 1rem;font-size:.875rem;line-height:1.5;border-radius:.3125rem} .btn-block {display:block;width:100%} .btn-block+.btn-block {margin-top:.5rem} input[type=button].btn-block,input[type=reset].btn-block,input[type=submit].btn-block {width:100%} .fade {transition:opacity .15s linear} @media (prefers-reduced-motion:reduce) {.fade {transition:none} } .fade:not(.show) {opacity:0} .collapse:not(.show) {display:none} .collapsing {position:relative;height:0;overflow:hidden;transition:height .35s ease} @media (prefers-reduced-motion:reduce) {.collapsing {transition:none} } .dropdown,.dropleft,.dropright,.dropup {position:relative} .dropdown-toggle {white-space:nowrap} .dropdown-toggle::after {display:inline-block;margin-left:.255em;vertical-align:.255em;content:"";border-top:.3em solid;border-right:.3em solid transparent;border-bottom:0;border-left:.3em solid transparent} .dropdown-toggle:empty::after {margin-left:0} .dropdown-menu {position:absolute;top:100%;left:0;z-index:1000;display:none;float:left;min-width:10rem;padding:1rem 0;margin:.125rem 0 0;font-size:1rem;color:#555a64;text-align:left;list-style:none;background-color:#fff;background-clip:padding-box;border:1px solid #eaedf2;border-radius:.3125rem;box-shadow:0 .5rem 1rem rgba(0,0,0,.09)} .dropdown-menu-left {right:auto;left:0} .dropdown-menu-right {right:0;left:auto} .dropup .dropdown-menu {top:auto;bottom:100%;margin-top:0;margin-bottom:.125rem} .dropup .dropdown-toggle::after {display:inline-block;margin-left:.255em;vertical-align:.255em;content:"";border-top:0;border-right:.3em solid transparent;border-bottom:.3em solid;border-left:.3em solid transparent} .dropup .dropdown-toggle:empty::after {margin-left:0} .dropright .dropdown-menu {top:0;right:auto;left:100%;margin-top:0;margin-left:.125rem} .dropright .dropdown-toggle::after {display:inline-block;margin-left:.255em;vertical-align:.255em;content:"";border-top:.3em solid transparent;border-right:0;border-bottom:.3em solid transparent;border-left:.3em solid} .dropright .dropdown-toggle:empty::after {margin-left:0} .dropright .dropdown-toggle::after {vertical-align:0} .dropleft .dropdown-menu {top:0;right:100%;left:auto;margin-top:0;margin-right:.125rem} .dropleft .dropdown-toggle::after {display:inline-block;margin-left:.255em;vertical-align:.255em;content:""} .dropleft .dropdown-toggle::after {display:none} .dropleft .dropdown-toggle::before {display:inline-block;margin-right:.255em;vertical-align:.255em;content:"";border-top:.3em solid transparent;border-right:.3em solid;border-bottom:.3em solid transparent} .dropleft .dropdown-toggle:empty::after {margin-left:0} .dropleft .dropdown-toggle::before {vertical-align:0} .dropdown-menu[x-placement^=bottom],.dropdown-menu[x-placement^=left],.dropdown-menu[x-placement^=right],.dropdown-menu[x-placement^=top] {right:auto;bottom:auto} .dropdown-item {display:block;width:100%;padding:.25rem 1.5rem;clear:both;font-weight:600;color:rgba(85,90,100,.6);text-align:inherit;white-space:nowrap;background-color:transparent;border:0} .dropdown-item:focus,.dropdown-item:hover {color:#2568ef;text-decoration:none;background-color:none} .dropdown-item.active,.dropdown-item:active {color:#2568ef;text-decoration:none;background-color:rgba(37,104,239,.1)} .dropdown-item.disabled,.dropdown-item:disabled {color:rgba(85,90,100,.25);pointer-events:none;background-color:transparent} .dropdown-menu.show {display:block} .nav {display:flex;flex-wrap:wrap;padding-left:0;margin-bottom:0;list-style:none} .nav-link {display:block;padding:.5rem 1rem} .nav-link:focus,.nav-link:hover {text-decoration:none} .nav-link.disabled {color:#6c757d;pointer-events:none;cursor:default} .nav-pills .nav-link {border-radius:.3125rem} .nav-pills .nav-link.active,.nav-pills .show>.nav-link {color:#fff;background-color:#2568ef} .tab-content>.tab-pane {display:none} .tab-content>.active {display:block} .navbar {position:relative;display:flex;flex-wrap:wrap;align-items:center;justify-content:space-between;padding:1rem 1rem} .navbar>.container {display:flex;flex-wrap:wrap;align-items:center;justify-content:space-between} .navbar-brand {display:inline-block;padding-top:.3125rem;padding-bottom:.3125rem;margin-right:.1rem;font-size:1.25rem;line-height:inherit;white-space:nowrap} .navbar-brand:focus,.navbar-brand:hover {text-decoration:none} .navbar-nav {display:flex;flex-direction:column;padding-left:0;margin-bottom:0;list-style:none} .navbar-nav .nav-link {padding-right:0;padding-left:0} .navbar-nav .dropdown-menu {position:static;float:none} .navbar-collapse {flex-basis:100%;flex-grow:1;align-items:center} .navbar-toggler {padding:0 0;font-size:1.25rem;line-height:1;background-color:transparent;border:1px solid transparent;border-radius:.3125rem} .navbar-toggler:focus,.navbar-toggler:hover {text-decoration:none} @media (max-width:991.98px) {.navbar-expand-lg>.container {padding-right:0;padding-left:0} } @media (min-width:992px) {.navbar-expand-lg {flex-flow:row nowrap;justify-content:flex-start} .navbar-expand-lg .navbar-nav {flex-direction:row} .navbar-expand-lg .navbar-nav .dropdown-menu {position:absolute} .navbar-expand-lg .navbar-nav .nav-link {padding-right:.75rem;padding-left:.75rem} .navbar-expand-lg>.container {flex-wrap:nowrap} .navbar-expand-lg .navbar-collapse {display:flex!important;flex-basis:auto} .navbar-expand-lg .navbar-toggler {display:none} } .navbar-light .navbar-brand {color:rgba(0,0,0,.9)} .navbar-light .navbar-brand:focus,.navbar-light .navbar-brand:hover {color:rgba(0,0,0,.9)} .navbar-light .navbar-nav .nav-link {color:rgba(0,0,0,.5)} .navbar-light .navbar-nav .nav-link:focus,.navbar-light .navbar-nav .nav-link:hover {color:rgba(0,0,0,.7)} .navbar-light .navbar-nav .nav-link.disabled {color:rgba(0,0,0,.3)} .navbar-light .navbar-nav .active>.nav-link,.navbar-light .navbar-nav .nav-link.active,.navbar-light .navbar-nav .nav-link.show,.navbar-light .navbar-nav .show>.nav-link {color:rgba(0,0,0,.9)} .navbar-light .navbar-toggler {color:rgba(0,0,0,.5);border-color:rgba(0,0,0,.1)} .navbar-dark .navbar-brand {color:#fff} .navbar-dark .navbar-brand .scrolled {color:#000} .navbar.scrolled.navbar-dark {color:#000!important} .navbar.navbar-dark {color:#fff!important} .navbar {color:#2568ef} .navbar-dark .navbar-brand:focus,.navbar-dark .navbar-brand:hover {color:#fff} .navbar-dark .navbar-nav .nav-link {color:rgba(255,255,255,.65)} .navbar-dark .navbar-nav .nav-link:focus,.navbar-dark .navbar-nav .nav-link:hover {color:rgba(255,255,255,.85)} .navbar-dark .navbar-nav .nav-link.disabled {color:rgba(255,255,255,.25)} .navbar-dark .navbar-nav .active>.nav-link,.navbar-dark .navbar-nav .nav-link.active,.navbar-dark .navbar-nav .nav-link.show,.navbar-dark .navbar-nav .show>.nav-link {color:#fff} .navbar-dark .navbar-toggler {color:rgba(255,255,255,.65);border-color:rgba(255,255,255,.1)} .card {position:relative;display:flex;flex-direction:column;min-width:0;word-wrap:break-word;background-color:#fff;background-clip:border-box;border:1px solid #eaedf2;border-radius:.3125rem} .card>hr {margin-right:0;margin-left:0} .card>.list-group:first-child .list-group-item:first-child {border-top-left-radius:.3125rem;border-top-right-radius:.3125rem} .card>.list-group:last-child .list-group-item:last-child {border-bottom-right-radius:.3125rem;border-bottom-left-radius:.3125rem} .card-body {flex:1 1 auto;padding:2.25rem} .card-footer {padding:.75rem 2.25rem;background-color:rgba(0,0,0,.03);border-top:1px solid #eaedf2} .card-footer:last-child {border-radius:0 0 calc(.3125rem - 1px) calc(.3125rem - 1px)} .card-img-top {width:100%;border-top-left-radius:calc(.3125rem - 1px);border-top-right-radius:calc(.3125rem - 1px)} .breadcrumb {display:flex;flex-wrap:wrap;padding:.75rem 1.5rem;margin-bottom:1rem;list-style:none;background-color:#eaedf2;border-radius:.3125rem} .breadcrumb-item+.breadcrumb-item {padding-left:0} .breadcrumb-item+.breadcrumb-item::before {display:inline-block;padding-right:0;color:#6c757d;content:"/"} .breadcrumb-item+.breadcrumb-item:hover::before {text-decoration:underline} .breadcrumb-item+.breadcrumb-item:hover::before {text-decoration:none} .breadcrumb-item.active {color:#6c757d} .badge {display:inline-block;padding:.5rem .75rem;font-size:.875rem;font-weight:500;line-height:1;text-align:center;white-space:nowrap;vertical-align:baseline;border-radius:.3125rem;transition:color .15s ease-in-out,background-color .15s ease-in-out,border-color .15s ease-in-out,box-shadow .15s ease-in-out} @media (prefers-reduced-motion:reduce) {.badge {transition:none} } a.badge:focus,a.badge:hover {text-decoration:none} .badge:empty {display:none} .btn .badge {position:relative;top:-1px} .badge-pill {padding-right:.75rem;padding-left:.75rem;border-radius:10rem} .badge-primary {color:#fff;background-color:#2568ef} a.badge-primary:focus,a.badge-primary:hover {color:#fff;background-color:#0f50d2} a.badge-primary.focus,a.badge-primary:focus {outline:0;box-shadow:0 0 0 .2rem rgba(37,104,239,.5)} .badge-success {color:#fff;background-color:#28a745} a.badge-success:focus,a.badge-success:hover {color:#fff;background-color:#1e7e34} a.badge-success.focus,a.badge-success:focus {outline:0;box-shadow:0 0 0 .2rem rgba(40,167,69,.5)} .badge-danger {color:#fff;background-color:#dc3545} a.badge-danger:focus,a.badge-danger:hover {color:#fff;background-color:#bd2130} a.badge-danger.focus,a.badge-danger:focus {outline:0;box-shadow:0 0 0 .2rem rgba(220,53,69,.5)} .badge-primary-2 {color:#fff;background-color:#ff564f} a.badge-primary-2:focus,a.badge-primary-2:hover {color:#fff;background-color:#ff251c} a.badge-primary-2.focus,a.badge-primary-2:focus {outline:0;box-shadow:0 0 0 .2rem rgba(255,86,79,.5)} .alert {position:relative;padding:.75rem 1.5rem;margin-bottom:1rem;border:0 solid transparent;border-radius:.3125rem} .alert-dismissible {padding-right:4.5rem} .alert-dismissible .close {position:absolute;top:0;right:0;padding:.75rem 1.5rem;color:inherit} .alert-primary {color:#0f2a60;background-color:#d3e1fc;border-color:#c2d5fb} .alert-primary hr {border-top-color:#aac5f9} .alert-success {color:#10431c;background-color:#d4edda;border-color:#c3e6cb} .alert-success hr {border-top-color:#b1dfbb} .alert-danger {color:#58151c;background-color:#f8d7da;border-color:#f5c6cb} .alert-danger hr {border-top-color:#f1b0b7} @-webkit-keyframes progress-bar-stripes {from {background-position:1rem 0} to {background-position:0 0} } @keyframes progress-bar-stripes {from {background-position:1rem 0} to {background-position:0 0} } .progress {display:flex;height:1rem;overflow:hidden;font-size:.75rem;background-color:#f7f9fc;border-radius:.3125rem;box-shadow:inset 0 .1rem .1rem rgba(0,0,0,.1)} .media {display:flex;align-items:flex-start} .list-group {display:flex;flex-direction:column;padding-left:0;margin-bottom:0} .list-group-item {position:relative;display:block;padding:1.5rem 2.25rem;margin-bottom:-1px;background-color:#fff;border:1px solid #eaedf2} .list-group-item:first-child {border-top-left-radius:.3125rem;border-top-right-radius:.3125rem} .list-group-item:last-child {margin-bottom:0;border-bottom-right-radius:.3125rem;border-bottom-left-radius:.3125rem} .list-group-item.disabled,.list-group-item:disabled {color:#6c757d;pointer-events:none;background-color:#fff} .list-group-item.active {z-index:2;color:#fff;background-color:#2568ef;border-color:#2568ef} .close {float:right;font-size:1.5rem;font-weight:500;line-height:1;color:#000;text-shadow:0 1px 0 #fff;opacity:.5} @media (max-width:1200px) {.close {font-size:calc(1.275rem + .3vw)} } .close:hover {color:#000;text-decoration:none} .close:not(:disabled):not(.disabled):focus,.close:not(:disabled):not(.disabled):hover {opacity:.75} button.close {padding:0;background-color:transparent;border:0;-webkit-appearance:none;-moz-appearance:none;appearance:none} a.close.disabled {pointer-events:none} .toast {max-width:350px;overflow:hidden;font-size:.875rem;background-color:rgba(255,255,255,.85);background-clip:padding-box;border:1px solid rgba(0,0,0,.1);box-shadow:0 .25rem .75rem rgba(0,0,0,.1);-webkit-backdrop-filter:blur(10px);backdrop-filter:blur(10px);opacity:0;border-radius:.25rem} .toast:not(:last-child) {margin-bottom:.75rem} .toast.showing {opacity:1} .toast.show {display:block;opacity:1} .toast.hide {display:none} .popover {position:absolute;top:0;left:0;z-index:1060;display:block;max-width:276px;font-family:Nunito,-apple-system,BlinkMacSystemFont,"Segoe UI",Roboto,"Helvetica Neue",Arial,"Noto Sans",sans-serif,"Apple Color Emoji","Segoe UI Emoji","Segoe UI Symbol","Noto Color Emoji";font-style:normal;font-weight:600;line-height:1.5;text-align:left;text-align:start;text-decoration:none;text-shadow:none;text-transform:none;letter-spacing:normal;word-break:normal;word-spacing:normal;white-space:normal;line-break:auto;font-size:1rem;word-wrap:break-word;background-color:#fff;background-clip:padding-box;border:1px solid #eaedf2;border-radius:.3125rem;box-shadow:0 .5rem 1rem rgba(0,0,0,.09)} .popover .arrow {position:absolute;display:block;width:1rem;height:.5rem;margin:0 .3125rem} .popover .arrow::after,.popover .arrow::before {position:absolute;display:block;content:"";border-color:transparent;border-style:solid} .popover-header {padding:1rem 1rem;margin-bottom:0;font-size:1rem;color:#2c3038;background-color:#f7f7f7;border-bottom:1px solid #ebebeb;border-top-left-radius:calc(.3125rem - 1px);border-top-right-radius:calc(.3125rem - 1px)} .popover-header:empty {display:none} .popover-body {padding:1rem 1rem;color:#555a64} .carousel {position:relative} .carousel.pointer-event {touch-action:pan-y} .carousel-item {position:relative;display:none;float:left;width:100%;margin-right:-100%;-webkit-backface-visibility:hidden;backface-visibility:hidden;transition:transform .6s ease-in-out} @media (prefers-reduced-motion:reduce) {.carousel-item {transition:none} } .carousel-item-next,.carousel-item-prev,.carousel-item.active {display:block} .active.carousel-item-right,.carousel-item-next:not(.carousel-item-left) {transform:translateX(100%)} .active.carousel-item-left,.carousel-item-prev:not(.carousel-item-right) {transform:translateX(-100%)} .carousel-indicators {position:absolute;right:0;bottom:0;left:0;z-index:15;display:flex;justify-content:center;padding-left:0;margin-right:15%;margin-left:15%;list-style:none} .carousel-indicators li {box-sizing:content-box;flex:0 1 auto;width:30px;height:3px;margin-right:3px;margin-left:3px;text-indent:-999px;cursor:pointer;background-color:#fff;background-clip:padding-box;border-top:10px solid transparent;border-bottom:10px solid transparent;opacity:.5;transition:opacity .6s ease} @media (prefers-reduced-motion:reduce) {.carousel-indicators li {transition:none} } .carousel-indicators .active {opacity:1} @-webkit-keyframes spinner-border {to {transform:rotate(360deg)} } @keyframes spinner-border {to {transform:rotate(360deg)} } @-webkit-keyframes spinner-grow {0% {transform:scale(0)} 50% {opacity:1} } @keyframes spinner-grow {0% {transform:scale(0)} 50% {opacity:1} } .bg-primary {background-color:#2568ef!important} a.bg-primary:focus,a.bg-primary:hover,button.bg-primary:focus,button.bg-primary:hover {background-color:#0f50d2!important} .bg-secondary {background-color:#eaedf2!important} a.bg-secondary:focus,a.bg-secondary:hover,button.bg-secondary:focus,button.bg-secondary:hover {background-color:#cbd2df!important} .bg-success {background-color:#28a745!important} a.bg-success:focus,a.bg-success:hover,button.bg-success:focus,button.bg-success:hover {background-color:#1e7e34!important} .bg-info {background-color:#17a2b8!important} a.bg-info:focus,a.bg-info:hover,button.bg-info:focus,button.bg-info:hover {background-color:#117a8b!important} .bg-warning {background-color:#ffc107!important} a.bg-warning:focus,a.bg-warning:hover,button.bg-warning:focus,button.bg-warning:hover {background-color:#d39e00!important} .bg-danger {background-color:#dc3545!important} a.bg-danger:focus,a.bg-danger:hover,button.bg-danger:focus,button.bg-danger:hover {background-color:#bd2130!important} .btn-light {color:#2c3038;background-color:#f7f9fc;border-color:#f7f9fc;box-shadow:none} .btn-light:hover {color:#2c3038;background-color:#dbe4f2;border-color:#d2ddee} .btn-light.focus,.btn-light:focus {box-shadow:none,0 0 0 .2rem rgba(217,219,223,.5)} .btn-light.disabled,.btn-light:disabled {color:#2c3038;background-color:#f7f9fc;border-color:#f7f9fc} .btn-light:not(:disabled):not(.disabled).active,.btn-light:not(:disabled):not(.disabled):active,.show>.btn-light.dropdown-toggle {color:#2c3038;background-color:#d2ddee;border-color:#c9d6eb} .btn-light:not(:disabled):not(.disabled).active:focus,.btn-light:not(:disabled):not(.disabled):active:focus,.show>.btn-light.dropdown-toggle:focus {box-shadow:0 0 0 .2rem rgba(217,219,223,.5)} .btn-outline-primary {color:#2568ef;border-color:#2568ef} .btn-outline-primary:hover {color:#fff;background-color:#2568ef;border-color:#2568ef} .btn-outline-primary.focus,.btn-outline-primary:focus {box-shadow:0 0 0 .2rem rgba(37,104,239,.5)} .btn-outline-primary.disabled,.btn-outline-primary:disabled {color:#2568ef;background-color:transparent} .btn-outline-primary:not(:disabled):not(.disabled).active,.btn-outline-primary:not(:disabled):not(.disabled):active,.show>.btn-outline-primary.dropdown-toggle {color:#fff;background-color:#2568ef;border-color:#2568ef} .btn-outline-primary:not(:disabled):not(.disabled).active:focus,.btn-outline-primary:not(:disabled):not(.disabled):active:focus,.show>.btn-outline-primary.dropdown-toggle:focus {box-shadow:0 0 0 .2rem rgba(37,104,239,.5)} .btn-outline-light {color:#f7f9fc;border-color:#f7f9fc} .btn-outline-light:hover {color:#2c3038;background-color:#f7f9fc;border-color:#f7f9fc} .btn-outline-light.focus,.btn-outline-light:focus {box-shadow:0 0 0 .2rem rgba(247,249,252,.5)} .btn-outline-light.disabled,.btn-outline-light:disabled {color:#f7f9fc;background-color:transparent} .btn-outline-light:not(:disabled):not(.disabled).active,.btn-outline-light:not(:disabled):not(.disabled):active,.show>.btn-outline-light.dropdown-toggle {color:#2c3038;background-color:#f7f9fc;border-color:#f7f9fc} .btn-outline-light:not(:disabled):not(.disabled).active:focus,.btn-outline-light:not(:disabled):not(.disabled):active:focus,.show>.btn-outline-light.dropdown-toggle:focus {box-shadow:0 0 0 .2rem rgba(247,249,252,.5)} .bg-light {background-color:#f7f9fc!important} a.bg-light:focus,a.bg-light:hover,button.bg-light:focus,button.bg-light:hover {background-color:#d2ddee!important} .bg-dark {background-color:#2c3038!important} a.bg-dark:focus,a.bg-dark:hover,button.bg-dark:focus,button.bg-dark:hover {background-color:#16181b!important} .bg-primary-2 {background-color:#ff564f!important} a.bg-primary-2:focus,a.bg-primary-2:hover,button.bg-primary-2:focus,button.bg-primary-2:hover {background-color:#ff251c!important} .bg-primary-3 {background-color:#051b35!important} a.bg-primary-3:focus,a.bg-primary-3:hover,button.bg-primary-3:focus,button.bg-primary-3:hover {background-color:#010306!important} .bg-white {background-color:#fff!important} .border {border:1px solid #eaedf2!important} .border-top {border-top:1px solid #eaedf2!important} .border-right {border-right:1px solid #eaedf2!important} .border-bottom {border-bottom:1px solid #eaedf2!important} .border-left {border-left:1px solid #eaedf2!important} .border-0 {border:0!important} .rounded {border-radius:.3125rem!important} .rounded-top {border-top-left-radius:.3125rem!important;border-top-right-radius:.3125rem!important} .rounded-circle {border-radius:50%!important} .clearfix::after {display:block;clear:both;content:""} .d-none {display:none!important} .d-block {display:block!important} .d-flex {display:flex!important} @media (min-width:576px) {.d-sm-block {display:block!important} } @media (min-width:768px) {.d-md-block {display:block!important} .d-md-flex {display:flex!important} } @media (min-width:992px) {.d-lg-block {display:block!important} .d-lg-flex {display:flex!important} } .flex-row {flex-direction:row!important} .flex-column {flex-direction:column!important} .flex-wrap {flex-wrap:wrap!important} .flex-fill {flex:1 1 auto!important} .flex-grow-1 {flex-grow:1!important} .flex-shrink-0 {flex-shrink:0!important} .justify-content-start {justify-content:flex-start!important} .justify-content-end {justify-content:flex-end!important} .justify-content-center {justify-content:center!important} .justify-content-between {justify-content:space-between!important} .justify-content-around {justify-content:space-around!important} .align-items-center {align-items:center!important} @media (min-width:576px) {.flex-sm-row {flex-direction:row!important} .justify-content-sm-center {justify-content:center!important} } @media (min-width:768px) {.flex-md-column {flex-direction:column!important} } @media (min-width:992px) {.flex-lg-row {flex-direction:row!important} .flex-lg-column {flex-direction:column!important} .justify-content-lg-start {justify-content:flex-start!important} .justify-content-lg-end {justify-content:flex-end!important} .justify-content-lg-between {justify-content:space-between!important} } .float-left {float:left!important} .position-static {position:static!important} .position-relative {position:relative!important} .position-absolute {position:absolute!important} .position-fixed {position:fixed!important} .fixed-top {position:fixed;top:0;right:0;left:0;z-index:1030} .fixed-bottom {position:fixed;right:0;bottom:0;left:0;z-index:1030} @supports ((position:-webkit-sticky) or (position:sticky)) {.sticky-top {position:-webkit-sticky;position:sticky;top:0;z-index:1020} } .shadow {box-shadow:0 .5rem 1rem rgba(0,0,0,.09)!important} .shadow-lg {box-shadow:0 .75rem 1.5rem rgba(0,0,0,.09)!important} .w-25 {width:25%!important} .w-50 {width:50%!important} .w-75 {width:75%!important} .w-100 {width:100%!important} .w-auto {width:auto!important} .h-25 {height:25%!important} .h-50 {height:50%!important} .h-75 {height:75%!important} .h-100 {height:100%!important} .min-vh-100 {min-height:100vh!important} .mb-0 {margin-bottom:0!important} .my-1 {margin-top:.25rem!important} .mb-1,.my-1 {margin-bottom:.25rem!important} .m-2 {margin:.5rem!important} .mt-2 {margin-top:.5rem!important} .mr-2 {margin-right:.5rem!important} .mb-2 {margin-bottom:.5rem!important} .mt-3,.my-3 {margin-top:1rem!important} .mr-3,.mx-3 {margin-right:1rem!important} .mb-3,.my-3 {margin-bottom:1rem!important} .ml-3,.mx-3 {margin-left:1rem!important} .mt-4,.my-4 {margin-top:1.5rem!important} .mr-4,.mx-4 {margin-right:1.5rem!important} .mb-4,.my-4 {margin-bottom:1.5rem!important} .mx-4 {margin-left:1.5rem!important} .my-5 {margin-top:3rem!important} .mb-5,.my-5 {margin-bottom:3rem!important} .p-0 {padding:0!important} .pt-0 {padding-top:0!important} .px-0 {padding-right:0!important} .pb-0 {padding-bottom:0!important} .px-0 {padding-left:0!important} .p-1 {padding:.25rem!important} .py-2 {padding-top:.5rem!important} .py-2 {padding-bottom:.5rem!important} .p-3 {padding:1rem!important} .pt-3 {padding-top:1rem!important} .px-3 {padding-right:1rem!important} .pb-3 {padding-bottom:1rem!important} .px-3 {padding-left:1rem!important} .p-4 {padding:1.5rem!important} .pt-4,.py-4 {padding-top:1.5rem!important} .pb-4,.py-4 {padding-bottom:1.5rem!important} .pt-5 {padding-top:3rem!important} .pb-5 {padding-bottom:3rem!important} @media (min-width:576px) {.my-sm-0 {margin-top:0!important} .mb-sm-0,.my-sm-0 {margin-bottom:0!important} .mr-sm-2,.mx-sm-2 {margin-right:.5rem!important} .mx-sm-2 {margin-left:.5rem!important} } @media (min-width:768px) {.mt-md-0,.my-md-0 {margin-top:0!important} .mr-md-0 {margin-right:0!important} .mb-md-0,.my-md-0 {margin-bottom:0!important} .mb-md-3 {margin-bottom:1rem!important} .mr-md-4 {margin-right:1.5rem!important} .mb-md-4 {margin-bottom:1.5rem!important} .ml-md-4 {margin-left:1.5rem!important} .mt-md-5 {margin-top:3rem!important} .mb-md-5 {margin-bottom:3rem!important} .p-md-4 {padding:1.5rem!important} .px-md-4 {padding-right:1.5rem!important} .pb-md-4 {padding-bottom:1.5rem!important} .px-md-4 {padding-left:1.5rem!important} .p-md-5 {padding:3rem!important} .py-md-5 {padding-top:3rem!important} .py-md-5 {padding-bottom:3rem!important} } @media (min-width:992px) {.mt-lg-0,.my-lg-0 {margin-top:0!important} .mr-lg-0,.mx-lg-0 {margin-right:0!important} .mb-lg-0,.my-lg-0 {margin-bottom:0!important} .mx-lg-0 {margin-left:0!important} .mr-lg-2 {margin-right:.5rem!important} .ml-lg-4 {margin-left:1.5rem!important} .pl-lg-2 {padding-left:.5rem!important} .px-lg-5 {padding-right:3rem!important} .pl-lg-5,.px-lg-5 {padding-left:3rem!important} } @media (min-width:1200px) {.mx-xl-4 {margin-right:1.5rem!important} .mx-xl-4 {margin-left:1.5rem!important} .mr-xl-5 {margin-right:3rem!important} .pl-xl-0 {padding-left:0!important} .pr-xl-4 {padding-right:1.5rem!important} .pr-xl-5 {padding-right:3rem!important} } .text-center {text-align:center!important} @media (min-width:992px) {.text-lg-left {text-align:left!important} } .text-white {color:#fff!important} .text-dark {color:#2c3038!important} a.text-dark:focus,a.text-dark:hover {color:#0a0b0d!important} .text-body {color:#555a64!important} .text-muted {color:rgba(85,90,100,.65)!important} .visible {visibility:visible!important} .invisible {visibility:hidden!important} @media print {*,::after,::before {text-shadow:none!important;box-shadow:none!important} a:not(.btn) {text-decoration:underline} abbr[title]::after {content:" (" attr(title) ")"} pre {white-space:pre-wrap!important} blockquote,pre {border:1px solid #adb5bd;page-break-inside:avoid} thead {display:table-header-group} img,tr {page-break-inside:avoid} h2,h3,p {orphans:3;widows:3} h2,h3 {page-break-after:avoid} @page {size:a3} body {min-width:992px!important} .container {min-width:992px!important} .navbar {display:none} .badge {border:1px solid #000} .table {border-collapse:collapse!important} .table td,.table th {background-color:#fff!important} } .badge {vertical-align:middle;letter-spacing:0} a.badge-primary {background-color:rgba(37,104,239,.1);color:#2568ef} a.badge-success {background-color:rgba(40,167,69,.1);color:#28a745} a.badge-danger {background-color:rgba(220,53,69,.1);color:#dc3545} a.badge-primary-2 {background-color:rgba(255,86,79,.1);color:#ff564f} .card-img-top+.badge {position:absolute;top:1.5rem;right:1.5rem} @media (max-width:767.98px) {.btn-lg {font-size:1rem;padding:.625rem 1.5rem} } .btn-outline-primary {border-color:rgba(37,104,239,.25)} .btn-outline-primary:hover {background-color:rgba(37,104,239,.2);border-color:transparent;color:#2568ef} .btn-outline-light {border-color:rgba(247,249,252,.25)} .btn-outline-light:hover {background-color:rgba(247,249,252,.2);border-color:transparent;color:#f7f9fc} .btn>span {display:inline-block} .btn .icon {height:1.25rem} .btn .icon:last-child:not(:only-child) {margin-right:-.5rem;margin-left:.5rem} .btn .icon:first-child:not(:only-child) {margin-left:-.5rem;margin-right:.5rem} .btn.rounded-circle {padding:0;width:3rem;height:3rem;display:inline-flex;align-items:center;justify-content:center} .btn.btn-sm.rounded-circle {width:2.25rem;height:2.25rem} .btn.btn-sm.rounded-circle .icon {height:1rem} .btn.btn-lg .icon {height:2.25rem} .btn.btn-lg.rounded-circle {width:4.5rem;height:4.5rem} .btn.btn-lg.rounded-circle .icon {height:1.5rem} .btn[class*=outline-]:focus .icon [stroke]:not([stroke=none]) {stroke:#fff} .btn[class*=outline-]:focus .icon [fill]:not([fill=none]) {fill:#fff} .btn-back-to-top {position:fixed;bottom:2rem;right:2rem;z-index:1030} .btn-loading {display:flex;white-space:nowrap;align-items:center;justify-content:center} .btn-loading:not(.btn-loading-animate)>span {vertical-align:baseline;display:block;line-height:1} .btn-loading .icon {display:none;margin-top:-.5em;margin-bottom:-.5em} .btn-loading.btn-loading-animate .icon {display:inline-block} .btn-loading.btn-loading-animate .icon path {-webkit-animation:spin .5s infinite linear;animation:spin .5s infinite linear;transform-origin:12px} @-webkit-keyframes spin {0% {transform:rotateZ(0)} 100% {transform:rotateZ(360deg)} } @keyframes spin {0% {transform:rotateZ(0)} 100% {transform:rotateZ(360deg)} } .card.bg-white {border-color:transparent;background-color:rgba(255,255,255,.05)!important} .card.bg-white .card-footer {border-color:rgba(255,255,255,.1)} .card-footer {background-color:transparent} @media (max-width:767.98px) {.card-body {padding:1.5rem} } a.card {color:#555a64;font-weight:600} .bg-rainbow { /*background:linear-gradient(to right,#2568ef,#ff564f)!important */ background: radial-gradient(50% 123.47% at 50% 50%, #00FF94 0%, #720059 100%), linear-gradient(121.28deg, #669600 0%, #FF0000 100%), linear-gradient(360deg, #0029FF 0%, #8FFF00 100%), radial-gradient(100% 164.72% at 100% 100%, #6100FF 0%, #00FF57 100%), radial-gradient(100% 148.07% at 0% 0%, #FFF500 0%, #51D500 100%); background-blend-mode: screen, color-dodge, overlay, difference, normal; } .bg-gradient { background: linear-gradient(85.93deg, #2568ef 27.56%, #3977ff 53.72%, #FFFFFF 100.97%); color: #fff; } @media (min-width: 1441px) { .bg-gradient { padding-bottom: 12px; background-size: 170% 720px; background-image: url("data:image/svg+xml,%3Csvg width='1920' height='720' preserveAspectRatio='none' viewBox='0 0 1920 720' fill='none' xmlns='http://www.w3.org/2000/svg'%3E%3Cmask id='m0' style='mask-type:alpha' maskUnits='userSpaceOnUse' x='0' y='0' width='1921' height='720'%3E%3Crect width='1921' height='720' fill='%231414C4'/%3E%3C/mask%3E%3Cg mask='url(%23m0)'%3E%3Crect width='1921' height='720' fill='url(%23pt0)'/%3E%3Cpath d='M388.402 270.11C285.665 118.483 137.082 366.42 0 302.042V720H1690C1630.13 720 1358.61 653.943 1188.11 415.736C974.826 017.735 410.044 112.835 388.402 270.11Z' fill='url(%23pt1)'/%3E%3Cpath opacity='0.4' d='M1253.75 460.012C641.427 475.091 279.299 -73.9264 4.828 -291.027L2573.33 -78.6351C2318.34 -99.7202 1899.2 444.116 1253.75 460.012Z' fill='url(%23pt2)'/%3E%3Cg filter='url(%23f0)'%3E%3Cpath d='M200.234 619.141 -869.535 669.717 -939.79 407.519C-1010.05 145.32 -613.547 -188.736 -54.1849 -338.617C505.177 -488.498 1015.58 -397.446 1085.84 -135.247C1156.1 ' fill='%233977FF'/%3E%3C/g%3E%3Cpath opacity='0.5' d='M1187.79 400.759C765.472 300.145 321.782 -129.676 230.117 -468.111L2633.71 104.521C2370.83 41.8924 1686.17 519.492 1187.79 400.759Z' fill='url(%23pt3)'/%3E%3C/g%3E%3Cdefs%3E%3Cfilter id='f0' x='-367' y='-910' width='2880.05' height='2092.27' filterUnits='userSpaceOnUse' color-interpolation-filters='sRGB'%3E%3CfeFlood flood-opacity='0' result='bgf'/%3E%3CfeBlend mode='normal' in='SourceGraphic' in2='bgf' result='shape'/%3E%3CfeGaussianBlur stdDeviation='250'/%3E%3C/filter%3E%3ClinearGradient id='pt3' x1='2194.5' y1='39' x2='349.26' y2='-388' gradientUnits='userSpaceOnUse'%3E%3Cstop stop-color='white' stop-opacity='0.31'/%3E%3Cstop offset='0.727527' stop-color='white' stop-opacity='0.36'/%3E%3Cstop offset='1' stop-color='white' stop-opacity='0'/%3E%3C/linearGradient%3E%3ClinearGradient id='pt2' x1='358' y1='187' x2='1812.07' y2='-21.0746' gradientUnits='userSpaceOnUse'%3E%3Cstop stop-color='%23162AD2' stop-opacity='0.61'/%3E%3Cstop offset='0.4' stop-color='%231070FB'/%3E%3Cstop offset='1' stop-color='white' stop-opacity='0'/%3E%3C/linearGradient%3E%3ClinearGradient id='pt0' x1='422.5' y1='285' x2='1980.5' y2='208' gradientUnits='userSpaceOnUse'%3E%3Cstop stop-color='%230351d9'/%3E%3Cstop offset='0.3' stop-color='%23EAD3CB'/%3E%3Cstop offset='1' stop-color='white'/%3E%3C/linearGradient%3E%3ClinearGradient id='pt1' x1='337.787' y1='220' x2='1579' y2='697' gradientUnits='userSpaceOnUse'%3E%3Cstop stop-color='%230351E9'/%3E%3Cstop offset='0.5' stop-color='%2373a1F4'/%3E%3Cstop offset='1' stop-color='%23dFCBCB' stop-opacity='0'/%3E%3C/linearGradient%3E%3C/defs%3E%3C/svg%3E%0A"); } } .bg-success-alt {background-color:rgba(40,167,69,.1)} .bg-danger-alt {background-color:rgba(220,53,69,.1)} .container {position:relative;z-index:1} .dropdown-item {font-weight:500;transition:all .2s ease-in-out} .dropdown-toggle {display:flex;align-items:center} .dropdown-toggle:after {border:none!important;transition:all .2s ease-in-out;width:1.5rem;height:1.5rem;margin:0;transform:rotateZ(90deg);background-image:url("data:image/svg+xml,%3csvg width='24' height='24' viewBox='0 0 24 24' fill='none' xmlns='http://www.w3.org/2000/svg'%3e%3cpath d='M14.376 11.584C14.6728 11.7819 14.6728 12.2181 14.376 12.416L9.77735 15.4818C9.44507 15.7033 9 15.4651 9 15.0657L9 8.93426C9 8.53491 9.44507 8.29671 9.77735 8.51823L14.376 11.584Z' fill='%23fff'/%3e%3c/svg%3e")} .dropdown-toggle:not(:hover):after {opacity:.25} .btn.rounded-circle.dropdown-toggle:after {display:none} .dropup .dropdown-toggle:after {transform:rotateZ(-90deg);background-image:url("data:image/svg+xml,%3csvg width='24' height='24' viewBox='0 0 24 24' fill='none' xmlns='http://www.w3.org/2000/svg'%3e%3cpath d='M14.376 11.584C14.6728 11.7819 14.6728 12.2181 14.376 12.416L9.77735 15.4818C9.44507 15.7033 9 15.4651 9 15.0657L9 8.93426C9 8.53491 9.44507 8.29671 9.77735 8.51823L14.376 11.584Z' fill='%23fff'/%3e%3c/svg%3e")} .dropright .dropdown-toggle:after {transform:rotateZ(0);background-image:url("data:image/svg+xml,%3csvg width='24' height='24' viewBox='0 0 24 24' fill='none' xmlns='http://www.w3.org/2000/svg'%3e%3cpath d='M14.376 11.584C14.6728 11.7819 14.6728 12.2181 14.376 12.416L9.77735 15.4818C9.44507 15.7033 9 15.4651 9 15.0657L9 8.93426C9 8.53491 9.44507 8.29671 9.77735 8.51823L14.376 11.584Z' fill='%23fff'/%3e%3c/svg%3e")} .dropleft .dropdown-toggle:before {transform:rotateZ(360deg);background-image:url("data:image/svg+xml,%3csvg width='24' height='24' viewBox='0 0 24 24' fill='none' xmlns='http://www.w3.org/2000/svg'%3e%3cpath d='M14.376 11.584C14.6728 11.7819 14.6728 12.2181 14.376 12.416L9.77735 15.4818C9.44507 15.7033 9 15.4651 9 15.0657L9 8.93426C9 8.53491 9.44507 8.29671 9.77735 8.51823L14.376 11.584Z' fill='%23fff'/%3e%3c/svg%3e")} @media (max-width:767.98px) {.dropdown-menu {padding:.75rem 0} .dropdown-item {padding-left:1rem;padding-right:1rem} } [data-toggle=dropdown-grid]+.dropdown-menu {width:100vw;max-width:none;padding-left:0;padding-right:0;box-shadow:none;border:none;border-radius:0;background:0 0;margin-top:0} [data-toggle=dropdown-grid]+.dropdown-menu .dropdown-menu {top:0;margin-top:0} [data-toggle=dropdown-grid]+.dropdown-menu .card {margin-bottom:0} .dropdown-menu.row {pointer-events:none;padding:0} .dropdown-menu.row.show {display:flex} .dropdown-menu.row [class*=col] {padding-right:0;padding-left:0} [data-dropdown-content] {pointer-events:all} [data-toggle=dropdown-grid].dropdown-item {display:flex;align-items:center;justify-content:space-between} [data-toggle=dropdown-grid].dropdown-item:after {content:'';transition:all .2s ease-in-out;opacity:.25;display:block;width:1.5rem;height:1.5rem;margin-left:1.5rem;transform:rotateZ(0);background-image:url("data:image/svg+xml,%3csvg width='24' height='24' viewBox='0 0 24 24' fill='none' xmlns='http://www.w3.org/2000/svg'%3e%3cpath d='M14.376 11.584C14.6728 11.7819 14.6728 12.2181 14.376 12.416L9.77735 15.4818C9.44507 15.7033 9 15.4651 9 15.0657L9 8.93426C9 8.53491 9.44507 8.29671 9.77735 8.51823L14.376 11.584Z' fill='%232C3038'/%3e%3c/svg%3e")} [data-toggle=dropdown-grid].dropdown-item:focus:after,[data-toggle=dropdown-grid].dropdown-item:hover:after {transform:rotateZ(0);background-image:url("data:image/svg+xml,%3csvg width='24' height='24' viewBox='0 0 24 24' fill='none' xmlns='http://www.w3.org/2000/svg'%3e%3cpath d='M14.376 11.584C14.6728 11.7819 14.6728 12.2181 14.376 12.416L9.77735 15.4818C9.44507 15.7033 9 15.4651 9 15.0657L9 8.93426C9 8.53491 9.44507 8.29671 9.77735 8.51823L14.376 11.584Z' fill='%232568EF'/%3e%3c/svg%3e")} [data-toggle=dropdown-grid]:focus:after,[data-toggle=dropdown-grid]:hover:after {opacity:1} @media (max-width:991.98px) {.navbar-expand-lg .dropdown-menu,.navbar-expand-lg [data-dropdown-content] {left:0!important} .navbar-expand-lg [data-toggle=dropdown-grid]+.dropdown-menu {width:auto;position:relative} .navbar-expand-lg .dropdown-menu .dropdown .dropdown-toggle .icon {transform:rotateZ(270deg)} } [data-toggle=dropdown-grid][data-hover=true]:hover:before,body[data-dropdown-grid-hover=true] [data-dropdown-content]:not(.container):hover:before,body[data-dropdown-grid-hover=true] [data-toggle=dropdown-grid]:hover:before {content:'';position:absolute;width:100%;height:3rem;top:100%;left:0} [data-toggle=dropdown-grid][data-hover=true]+.dropdown-menu [data-toggle=dropdown-grid]:hover:before,body[data-dropdown-grid-hover=true] [data-dropdown-content]:not(.container)+.dropdown-menu [data-toggle=dropdown-grid]:hover:before,body[data-dropdown-grid-hover=true] [data-toggle=dropdown-grid]+.dropdown-menu [data-toggle=dropdown-grid]:hover:before {width:140%;height:110%;top:0;left:-20%} [data-dropdown-content]:not(.container):hover:before {top:-1.5rem;left:-1.5rem;width:calc(100% + 3rem);height:calc(100% + 3rem);padding:3rem} @media (min-width:992px) {.dropdown-grid-menu {background:#fff;border-radius:.3125rem;border:1px solid #eaedf2;padding:1rem 0;box-shadow:0 .5rem 1rem rgba(0,0,0,.09);min-width:10rem} } .custom-control input,.custom-control label {cursor:pointer} .custom-control label {-webkit-user-select:none;-moz-user-select:none;-ms-user-select:none;user-select:none} .custom-control.text-small label:after,.custom-control.text-small label:before {top:0} .form-group {position:relative} @media (max-width:767.98px) {.form-control-lg {font-size:1rem;padding:.6875rem .75rem;height:calc(1.5em + 1.375rem + 2px)} } [data-recaptcha]:not([data-size=invisible]) {margin-bottom:.5rem} .was-validated .form-control:invalid {background-image:url("data:image/svg+xml,%3csvg width='24' height='24' viewBox='0 0 24 24' fill='none' xmlns='http://www.w3.org/2000/svg'%3e%3cpath d='M18 6L6 18' stroke='%23dc3545' stroke-width='2' stroke-linecap='round' stroke-linejoin='round'/%3e%3cpath d='M6 6L18 18' stroke='%23dc3545' stroke-width='2' stroke-linecap='round' stroke-linejoin='round'/%3e%3c/svg%3e")} .was-validated .form-control:valid {background-image:url("data:image/svg+xml,%3csvg width='24' height='24' viewBox='0 0 24 24' fill='none' xmlns='http://www.w3.org/2000/svg'%3e%3cpath d='M20 6L9 17L4 12' stroke='%2328a745' stroke-width='2' stroke-linecap='round' stroke-linejoin='round'/%3e%3c/svg%3e")} footer {padding:3.75rem 0} @media (min-width:768px) {footer {padding:6rem 0} } @media (min-width:992px) {footer {padding:7.5rem 0} } @media (min-width:768px) {.footer-1 hr {margin-top:6rem} } .icon {flex-shrink:0;width:auto;height:2rem} .icon.icon-xs {height:1rem} .icon.icon-xs path[stroke] {stroke-width:3px} .icon.icon-sm {height:1.5rem} .icon.icon-lg {height:4.5rem} @media (min-width:768px) {.icon {height:3rem} } @media (max-width:767.98px) {.media>h5 {font-size:1rem} } .media .icon.icon-sm {height:2.25rem} .navbar {z-index:1020;width:100%} .navbar[data-overlay] {position:absolute} .navbar[data-sticky=top] {transition:all .2s ease-in-out;will-change:background-color} .navbar[data-sticky=top].scrolled {z-index:1021} .navbar-container {position:relative} @media (max-width:991.98px) {.navbar .dropdown-grid-menu {border-left:2px solid #eaedf2;padding:.25rem 0} .navbar .dropdown-grid-menu [data-toggle=dropdown-grid].dropdown-item {padding-left:1rem} .navbar .dropdown-grid-menu [data-toggle=dropdown-grid].dropdown-item:after {transform:rotateZ(90deg)} .navbar .dropdown-grid-menu .dropdown-grid-menu {margin-left:1rem} .navbar .dropdown-toggle.arrow-bottom:before {display:none} } @media (max-width:767.98px) {.navbar {padding-top:.5rem;padding-bottom:.5rem} } @media (max-width:1199.98px) {.navbar-expand-lg .navbar-nav .nav-link {padding-left:.5rem;padding-right:.5rem} } @media (min-width:1200px) {.navbar-nav>.nav-item {font-size:1.25rem} } .navbar-dark .navbar-brand-dynamic-color svg [stroke]:not([stroke=none]),.navbar-dark .navbar-toggler svg [stroke]:not([stroke=none]) {stroke:#fff} .navbar-dark .navbar-brand-dynamic-color svg [fill]:not([fill=none]),.navbar-dark .navbar-toggler svg [fill]:not([fill=none]) {fill:#fff} .navbar-light .dropdown-toggle:after {transform:rotateZ(90deg);background-image:url("data:image/svg+xml,%3csvg width='24' height='24' viewBox='0 0 24 24' fill='none' xmlns='http://www.w3.org/2000/svg'%3e%3cpath d='M14.376 11.584C14.6728 11.7819 14.6728 12.2181 14.376 12.416L9.77735 15.4818C9.44507 15.7033 9 15.4651 9 15.0657L9 8.93426C9 8.53491 9.44507 8.29671 9.77735 8.51823L14.376 11.584Z' fill='%232C3038'/%3e%3c/svg%3e")} .navbar-toggler {border:none;position:relative} .navbar-toggler svg {transition:all .2s ease-in-out} .navbar-toggler[aria-expanded=true] .navbar-toggler-open {opacity:0;transform:scale(.5) translateX(-100%)} .navbar-toggler[aria-expanded=false] .navbar-toggler-close {opacity:0;transform:scale(.5) translateX(100%)} .navbar-toggler-close {position:absolute;left:0;top:0} .navbar.navbar-toggled-show,.navbar.scrolled {background-color:#fff} .navbar.navbar-toggled-show.navbar-dark .navbar-nav .nav-link,.navbar.scrolled.navbar-dark .navbar-nav .nav-link {color:rgba(0,0,0,.5)} .navbar.navbar-toggled-show.navbar-dark .navbar-nav .nav-link:hover,.navbar.scrolled.navbar-dark .navbar-nav .nav-link:hover {color:rgba(0,0,0,.7)} .navbar.navbar-toggled-show.navbar-dark .navbar-nav .nav-link.dropdown-toggle:after,.navbar.scrolled.navbar-dark .navbar-nav .nav-link.dropdown-toggle:after {transform:rotateZ(90deg);background-image:url("data:image/svg+xml,%3csvg width='24' height='24' viewBox='0 0 24 24' fill='none' xmlns='http://www.w3.org/2000/svg'%3e%3cpath d='M14.376 11.584C14.6728 11.7819 14.6728 12.2181 14.376 12.416L9.77735 15.4818C9.44507 15.7033 9 15.4651 9 15.0657L9 8.93426C9 8.53491 9.44507 8.29671 9.77735 8.51823L14.376 11.584Z' fill='%232C3038'/%3e%3c/svg%3e")} .navbar.navbar-toggled-show.navbar-dark .navbar-brand-dynamic-color svg [stroke]:not([stroke=none]),.navbar.navbar-toggled-show.navbar-dark .navbar-toggler svg [stroke]:not([stroke=none]),.navbar.scrolled.navbar-dark .navbar-brand-dynamic-color svg [stroke]:not([stroke=none]),.navbar.scrolled.navbar-dark .navbar-toggler svg [stroke]:not([stroke=none]) {stroke:#2c3038} .navbar.navbar-toggled-show.navbar-dark .navbar-brand-dynamic-color svg [fill]:not([fill=none]),.navbar.navbar-toggled-show.navbar-dark .navbar-toggler svg [fill]:not([fill=none]),.navbar.scrolled.navbar-dark .navbar-brand-dynamic-color svg [fill]:not([fill=none]),.navbar.scrolled.navbar-dark .navbar-toggler svg [fill]:not([fill=none]) {fill:#2c3038} .nav-link {transition:all .2s ease-in-out} .section,section {position:relative;padding:3.75rem 0} @media (min-width:768px) {.section,section {padding:6rem 0} } @media (min-width:992px) {section {padding:7.5rem 0} } .section-title {margin-bottom:2.5rem} @media (min-width:768px) {.section-title {margin-bottom:3.75rem} } @media (min-width:992px) {.section-title {margin-bottom:4.6875rem} } [data-overlay] {position:relative} img[data-inject-svg] {opacity:0} svg[class*=bg-] {background:0 0!important} svg.bg-primary [stroke]:not([stroke=none]) {stroke:#2568ef} svg.bg-primary [fill]:not([fill=none]) {fill:#2568ef} svg.bg-secondary [stroke]:not([stroke=none]) {stroke:#eaedf2} svg.bg-secondary [fill]:not([fill=none]) {fill:#eaedf2} svg.bg-success [stroke]:not([stroke=none]) {stroke:#28a745} svg.bg-success [fill]:not([fill=none]) {fill:#28a745} svg.bg-info [stroke]:not([stroke=none]) {stroke:#17a2b8} svg.bg-info [fill]:not([fill=none]) {fill:#17a2b8} svg.bg-warning [stroke]:not([stroke=none]) {stroke:#ffc107} svg.bg-warning [fill]:not([fill=none]) {fill:#ffc107} svg.bg-danger [stroke]:not([stroke=none]) {stroke:#dc3545} svg.bg-danger [fill]:not([fill=none]) {fill:#dc3545} svg.bg-light [stroke]:not([stroke=none]) {stroke:#f7f9fc} svg.bg-light [fill]:not([fill=none]) {fill:#f7f9fc} svg.bg-dark [stroke]:not([stroke=none]) {stroke:#2c3038} svg.bg-dark [fill]:not([fill=none]) {fill:#2c3038} svg.bg-primary-2 [stroke]:not([stroke=none]) {stroke:#ff564f} svg.bg-primary-2 [fill]:not([fill=none]) {fill:#ff564f} svg.bg-primary-3 [stroke]:not([stroke=none]) {stroke:#051b35} svg.bg-primary-3 [fill]:not([fill=none]) {fill:#051b35} svg.bg-white [stroke]:not([stroke=none]) {stroke:#fff} svg.bg-white [fill]:not([fill=none]) {fill:#fff} body {-webkit-font-smoothing:antialiased;-moz-osx-font-smoothing:grayscale} a {color:#2568ef} a:hover {color:#0f50d2} a:focus {outline:0} .text-small {font-size:.875rem;line-height:1.25rem} .display-3,.display-4,.h1,.h2,.h3,.h4,.h5,h1,h2,h3,h4,h5 {letter-spacing:-.02em} @media (min-width:768px) {.display-3,.display-4,.h1,h1 {margin-bottom:1.5rem} .h1,h1 {line-height:1.125} p.lead {margin-bottom:1.5rem} } a {font-weight:500} a.lead {font-weight:500} mark {color:inherit;padding:0;background:0 0;background-image:linear-gradient(120deg,rgba(37, 104, 239,.4) 0,rgba(37, 104, 239,.4) 100%);background-repeat:no-repeat;background-size:0 .3em;background-position:0 80%;position:relative;-webkit-animation-delay:1s;animation-delay:1s} mark[data-aos=highlight-text].aos-animate {background-size:100% .3em} mark:not([data-aos=highlight-text]) {background-size:100% .3em} @-webkit-keyframes animateMark {0% {background-size:0 .3em} 100% {background-size:100% .3em} } @keyframes animateMark {0% {background-size:0 .3em} 100% {background-size:100% .3em} } @media (max-width:991.98px) {.lead {font-size:1rem;line-height:1.5;font-weight:600} } .blockquote {color:#2568ef;border-left:2px solid #eaedf2;padding-left:1rem} @media (max-width:1199.98px) {.blockquote {font-size:1.25rem!important} } address p {margin-bottom:0} @media (min-width:768px) {.blockquote {font-size:1.5rem;padding-left:3rem} } .text-white .blockquote,.text-white .display-3,.text-white .display-4,.text-white .h1,.text-white .h2,.text-white .h3,.text-white .h4,.text-white .h5,.text-white .h6,.text-white h1,.text-white h2,.text-white h3,.text-white h4,.text-white h5,.text-white h6 {color:#fff} .text-white a {transition:all .2s ease-in-out} .text-white .text-muted {color:rgba(255,255,255,.5)!important} .text-white hr {border-color:rgba(255,255,255,.1)} figcaption {margin-top:.5rem;font-size:.875rem} .textcenter,figure {text-align:center} .links-white a:not(:hover) {color:rgba(255,255,255,.7)} .links-white a:hover {color:#fff} .arrow-bottom:before {content:'';width:10px;height:10px;background:#fff;border-left:1px #eaedf2 solid;border-top:1px #eaedf2 solid;display:block;transform:translateX(-50%) rotateZ(225deg);position:absolute;bottom:-5px;left:50%;z-index:1001} .dropdown-toggle.arrow-bottom:before {bottom:-12px;transform:translateX(-50%) rotateZ(45deg)} .dropdown-toggle.arrow-bottom+.dropdown-menu {margin-top:7px} .dropdown .dropdown-toggle[aria-expanded=false]:before,.dropup .dropdown-toggle[aria-expanded=false]:before {display:none} .o-hidden {overflow:hidden} [class*=sticky-xs][class*='-top'][class*=col] {top:1.5rem} @media (min-width:576px) {[class*=sticky-sm][class*='-top'][class*=col] {top:1.5rem} } @media (min-width:768px) {[class*=sticky-md][class*='-top'][class*=col] {top:1.5rem} } @media (min-width:992px) {[class*=sticky-lg][class*='-top'][class*=col] {top:1.5rem} } @media (min-width:1200px) {[class*=sticky-xl][class*='-top'][class*=col] {top:1.5rem} } .bg-image {top:0;left:0;width:100%;height:100%;z-index:0} .bg-image:not([class*=absolute]) {position:absolute} .bg-image+.card-body {position:relative;z-index:1} img.bg-image {object-fit:cover} .opacity-10 {opacity:.1} .opacity-60 {opacity:.6} .opacity-90 {opacity:.9} .transform-flip-x {transform:scaleY(-1)} .transform-flip-y {transform:scaleX(-1)} .min-vh-40 {min-height:40vh} @media (min-width:768px) {.min-vh-md-30 {min-height:30vh} } @media (min-width:992px) {.min-vh-lg-20 {min-height:20vh} .min-vh-lg-50 {min-height:50vh} .min-vh-lg-60 {min-height:60vh} } img.h-100 {object-fit:cover} img.flex-fill {width:100%;height:100%;object-fit:cover} .img-fluid.position-relative {z-index:1} [class*=hover-] {transition:all .2s ease-in-out} .hover-fade-out:hover {opacity:.75} .hover-box-shadow:hover {box-shadow:0 .5rem 1rem rgba(0,0,0,.09);transform:translateY(-.5rem)} .top {top:0;bottom:auto} .bottom {top:auto;bottom:0} .left {right:auto;left:0} .right {left:auto;right:0} .card>[data-toggle=collapse] .icon,.card>[data-toggle=collapse] h6 {transition:all .2s ease-in-out} .card>[data-toggle=collapse][aria-expanded=false]:hover h6 {color:#2568ef} .card>[data-toggle=collapse][aria-expanded=true] h6 {color:#2568ef} .card>[data-toggle=collapse][aria-expanded=true] .icon {transform:rotateZ(90deg)} .card>[data-toggle=collapse][aria-expanded=true] .icon [fill]:not([fill=none]) {fill:#2568ef} .article ol,.article ul {padding-left:2rem} .article pre {padding:1rem;background:#2c3038;color:#e83e8c;border-radius:.3125rem} .article ol>li:not(:last-child),.article ul>li:not(:last-child) {margin-bottom:.5rem} .article pre {padding:2.25rem} .avatar.avatar-lg {width:4.5rem;height:4.5rem} @media (min-width:768px) {.avatar {border-radius:50%;height:4.5rem;width:4.5rem} .avatar.avatar-lg {width:6rem;height:6rem} } .blob {position:absolute;z-index:0;transform:scale(3); -webkit-mask-image:url("data:image/svg+xml;utf8,"); mask-image:url("data:image/svg+xml;utf8,"); -webkit-mask-size:100% 100%;mask-size:100% 100%} .blob.blob-2 {-webkit-mask-image:url(/assets/img/blobs/blob-2.svg);mask-image:url(/assets/img/blobs/blob-2.svg)} .blob.blob-3 {-webkit-mask-image:url(/assets/img/blobs/blob-3.svg);mask-image:url(/assets/img/blobs/blob-3.svg)} .blob.blob-4 {-webkit-mask-image:url("data:image/svg+xml;utf8,"); mask-image:url("data:image/svg+xml;utf8,")} .blob.top {top:-5vw} .blob.bottom {bottom:-5vw} .blob.right {right:-5vw} .blob.left {left:-5vw} .breadcrumb {align-items:center} .breadcrumb-item+.breadcrumb-item {display:flex;align-items:center} .breadcrumb-item+.breadcrumb-item:before {content:'';opacity:.5;width:1.5rem;height:1.5rem;background-image:url("data:image/svg+xml,%3csvg width='24' height='24' viewBox='0 0 24 24' fill='none' xmlns='http://www.w3.org/2000/svg'%3e%3cpath d='M14.376 11.584C14.6728 11.7819 14.6728 12.2181 14.376 12.416L9.77735 15.4818C9.44507 15.7033 9 15.4651 9 15.0657L9 8.93426C9 8.53491 9.44507 8.29671 9.77735 8.51823L14.376 11.584Z' fill='%232C3038'/%3e%3c/svg%3e")} .breadcrumb-item a {color:#555a64} .breadcrumb-item a:hover {color:#2568ef} @media (max-width:767.98px) {.breadcrumb {font-size:.875rem;padding:.5625rem 1.125rem} } .divider {width:100%;position:relative;height:5vw;pointer-events:none;-webkit-mask-image:url("data:image/svg+xml;utf8,%3csvg viewBox='0 0 100 100' width='100%' height='100%' xmlns='http://www.w3.org/2000/svg' preserveAspectRatio='none'%3e%3cpath d='M0,0 C16.6666667,66 33.3333333,98 50,98 C66.6666667,98 83.3333333,66 100,0 L100,100 L0,100 L0,0 Z' fill='%23fff'/%3e%3c/svg%3e");mask-image:url("data:image/svg+xml;utf8,%3csvg viewBox='0 0 100 100' width='100%' height='100%' xmlns='http://www.w3.org/2000/svg' preserveAspectRatio='none'%3e%3cpath d='M0,0 C16.6666667,66 33.3333333,98 50,98 C66.6666667,98 83.3333333,66 100,0 L100,100 L0,100 L0,0 Z' fill='%23fff'/%3e%3c/svg%3e");-webkit-mask-size:100% 101%;mask-size:100% 101%;background:#fff} .divider.divider-side {position:absolute;z-index:1;top:0;height:100%;width:5vw;max-width:72px;-webkit-mask-image:url("data:image/svg+xml;utf8,%3csvg viewBox='0 0 100 100' width='100%' height='100%' xmlns='http://www.w3.org/2000/svg' preserveAspectRatio='none'%3e%3cpath d='M0,0 C16.6666667,66 33.3333333,99 50,99 C66.6666667,99 83.3333333,66 100,0 L100,100 L0,100 L0,0 Z' fill='%23fff' fill-rule='evenodd' transform='translate(50.000000, 50.000000) rotate(-90.000000) translate(-50.000000, -50.000000)' /%3e%3c/svg%3e");mask-image:url("data:image/svg+xml;utf8,%3csvg viewBox='0 0 100 100' width='100%' height='100%' xmlns='http://www.w3.org/2000/svg' preserveAspectRatio='none'%3e%3cpath d='M0,0 C16.6666667,66 33.3333333,99 50,99 C66.6666667,99 83.3333333,66 100,0 L100,100 L0,100 L0,0 Z' fill='%23fff' fill-rule='evenodd' transform='translate(50.000000, 50.000000) rotate(-90.000000) translate(-50.000000, -50.000000)' /%3e%3c/svg%3e");-webkit-mask-size:100% 101%;mask-size:100% 101%} .divider.divider-side:first-child {left:-1px} .divider.divider-side:last-child {right:-1px} .divider.divider-bottom {top:1px} .divider.divider-top {bottom:1px} section>.divider-bottom {margin-top:calc(3.75rem - 5vw)} section>.divider-top {margin-bottom:calc(3.75rem - 5vw)} @media (min-width:768px) {section>.divider-bottom {margin-top:calc(6rem - 5vw)} section>.divider-top {margin-bottom:calc(6rem - 5vw)} } @media (min-width:992px) {section>.divider-bottom {margin-top:calc(7.5rem - 5vw)} section>.divider-top {margin-bottom:calc(7.5rem - 5vw)} } .card .divider {height:1.5rem} .alert p {margin-bottom:0} .lead>p:last-child {margin-bottom:0} table {margin-bottom:3rem} thead {margin:1rem 0} td {padding:1rem} tr {border-bottom:1px #eaedf2 solid} td code {word-break:keep-all} body.compensate-for-scrollbar {overflow:hidden} .side-menu {position:fixed;pointer-events:none;right:0;top:0;z-index:1031;display:flex;align-items:center} .side-menu .side-menu-body {height:100vh;overflow-y:scroll;transform:translateX(100%);transition:all .2s ease-in-out;pointer-events:all} .side-menu .btn {transition:all .2s ease-in-out;pointer-events:all;position:relative;margin-right:1.5rem;left:calc(100% - 4.5rem)} .side-menu .btn .icon {margin:0!important;transition:all .2s ease-in-out} .side-menu .btn .icon:last-child {position:absolute;opacity:0} .side-menu .btn.active {left:0} .side-menu .btn.active .icon:first-child {opacity:0} .side-menu .btn.active .icon:last-child {opacity:1} .side-menu .btn.active+.side-menu-body {transform:translateX(0)} .side-menu .nav-link {color:#555a64} .side-menu .nav-link:not(.active),.side-menu .nav-link:not(:hover) {opacity:.9} .side-menu .nav-link.active,.side-menu .nav-link:hover {color:#2568ef;opacity:1} /*lcp on moblie fix*/ .clsfix {min-height:500px;} @media (max-width:767px) { #mainImage {display:none;} .clsfix {min-height:auto;} } /* NOT IMPORTANT **/ /*! Flickity v2.2.1 */ .flickity-enabled {position:relative} .flickity-enabled:focus {outline:0} .flickity-viewport {overflow:hidden;position:relative;height:100%} .flickity-slider {position:absolute;width:100%;height:100%} .flickity-enabled.is-draggable {-webkit-tap-highlight-color:transparent;-webkit-user-select:none;-moz-user-select:none;-ms-user-select:none;user-select:none} .flickity-enabled.is-draggable .flickity-viewport {cursor:move;cursor:-webkit-grab;cursor:grab} .flickity-enabled.is-draggable .flickity-viewport.is-arrows-down {cursor:-webkit-grabbing;cursor:grabbing} .flickity-button {position:absolute;background:rgba(255,255,255,.75);border:none;color:#333} .flickity-button:hover {background:#fff;cursor:pointer} .flickity-button:focus {outline:0;box-shadow:0 0 0 5px #19f} .flickity-button:active {opacity:.6} .flickity-button:disabled {opacity:.3;cursor:auto;pointer-events:none} .flickity-button-icon {fill:currentColor} .flickity-prev-next-button {top:50%;width:44px;height:44px;border-radius:50%;transform:translateY(-50%)} .flickity-prev-next-button.previous {left:10px} .flickity-prev-next-button.next {right:10px} .flickity-rtl .flickity-prev-next-button.previous {left:auto;right:10px} .flickity-rtl .flickity-prev-next-button.next {right:auto;left:10px} .flickity-prev-next-button .flickity-button-icon {position:absolute;left:20%;top:20%;width:60%;height:60%} .flickity-page-dots {position:absolute;width:100%;bottom:-25px;padding:0;margin:0;list-style:none;text-align:center;line-height:1} .flickity-rtl .flickity-page-dots {direction:rtl} .flickity-page-dots .dot {display:inline-block;width:10px;height:10px;margin:0 8px;background:#333;border-radius:50%;opacity:.25;cursor:pointer} .flickity-page-dots .dot.is-selected {opacity:1} [data-flickity]:not(.flickity-enabled) {opacity:0} .flickity-page-dots {bottom:-2.125rem} .flickity-page-dots .dot {width:6px;height:6px;border-radius:10rem;margin:0 5px;background:#555a64;opacity:.2;transition:all .2s ease-in-out} .flickity-page-dots .dot.is-selected {transform:scale(1.33333)} .flickity-prev-next-button {padding:0;background:#2568ef;border:2px solid #2568ef;width:3rem;height:3rem;transition:all .2s ease-in-out;display:flex;align-items:center;justify-content:center} .flickity-prev-next-button:after {background-image:url("data:image/svg+xml;utf8,%3csvg width='24' height='24' viewBox='0 0 24 24' fill='none' xmlns='http://www.w3.org/2000/svg'%3e%3cpath d='M12 5L5 12L12 19M19 12H6H19Z' stroke='%23fff' stroke-width='2' stroke-linecap='round' stroke-linejoin='round'/%3e%3c/svg%3e");content:'';width:1.25rem;height:1.25rem;display:block;background-size:cover} .flickity-prev-next-button.previous {left:1.5rem} .flickity-prev-next-button.next {right:1.5rem} .flickity-prev-next-button.next:after {transform:rotateZ(180deg)} .flickity-prev-next-button:hover {box-shadow:0 .25rem .375rem rgba(0,0,0,.09);background:#0f50d2;border-color:#0f50d2} .flickity-button-icon {display:none} @media (max-width:1199.98px) {.flickity-prev-next-button {display:none} } .controls-hover:not(:hover) .flickity-page-dots,.controls-hover:not(:hover) .flickity-prev-next-button {opacity:0} .carousel-cell {width:100%} .highlight-selected {position:relative;z-index:1} .highlight-selected .carousel-cell {transition:opacity .2s ease,transform .2s ease} .highlight-selected .carousel-cell:not(.is-selected) {transform:scale(.9);opacity:.25} @media (min-width:992px) {.flex-lg-column [data-flickity].flex-fill .flickity-viewport {flex:1 1 auto;height:100%!important} .flex-lg-column [data-flickity].flex-fill .carousel-cell {height:100%} .flex-lg-column [data-flickity].flex-fill img {width:100%;height:100%;object-fit:cover} } @media screen and (-ms-high-contrast:active),screen and (-ms-high-contrast:none) {body .blob {display:none} body .row {flex-grow:1} body .card {display:block} body .icon {width:2rem} body .icon.icon-xs {width:1rem} body .icon.icon-sm {width:1.5rem} body .icon.icon-lg {width:4.5rem} body .flex-wrap>div {width:100%} body a[role=button]:not(.dropdown-toggle):not(.dropdown-item) {display:block} } .jarallax {position:relative;z-index:0} .jarallax>.jarallax-img {position:absolute;object-fit:cover;font-family:'object-fit: cover;';top:0;left:0;width:100%;height:100%;z-index:-1} div[data-maps-api-key] div.map-marker,div[data-maps-api-key] div.map-style {display:none} .modal-header {position:relative;z-index:1} .modal-header .close {position:absolute;right:0;top:0;margin:0} body {transition:opacity .4s ease} body.fade-page {opacity:0} @-webkit-keyframes plyr-progress {to {background-position:25px 0} } @keyframes plyr-progress {to {background-position:25px 0} } @-webkit-keyframes plyr-popup {0% {opacity:.5;transform:translateY(10px)} to {opacity:1;transform:translateY(0)} } @keyframes plyr-popup {0% {opacity:.5;transform:translateY(10px)} to {opacity:1;transform:translateY(0)} } @-webkit-keyframes plyr-fade-in {from {opacity:0} to {opacity:1} } @keyframes plyr-fade-in {from {opacity:0} to {opacity:1} } .plyr {-moz-osx-font-smoothing:auto;-webkit-font-smoothing:subpixel-antialiased;direction:ltr;font-family:Avenir,"Avenir Next","Helvetica Neue","Segoe UI",Helvetica,Arial,sans-serif;font-variant-numeric:tabular-nums;font-weight:500;line-height:1.7;max-width:100%;min-width:200px;position:relative;text-shadow:none;transition:box-shadow .3s ease} .plyr audio,.plyr video {border-radius:inherit;height:auto;vertical-align:middle;width:100%} .plyr button {font:inherit;line-height:inherit;width:auto} .plyr:focus {outline:0} .plyr [data-plyr=airplay],.plyr [data-plyr=captions],.plyr [data-plyr=fullscreen],.plyr [data-plyr=pip] {display:none} .plyr:-webkit-full-screen {background:#000;border-radius:0!important;height:100%;margin:0;width:100%} .plyr:-ms-fullscreen {background:#000;border-radius:0!important;height:100%;margin:0;width:100%} .plyr:-moz-full-screen {background:#000;border-radius:0!important;height:100%;margin:0;width:100%} .plyr:fullscreen {background:#000;border-radius:0!important;height:100%;margin:0;width:100%} .plyr:-webkit-full-screen video {height:100%} .plyr:-ms-fullscreen video {height:100%} .plyr:-moz-full-screen video {height:100%} .plyr:fullscreen video {height:100%} .plyr:-webkit-full-screen {background:#000;border-radius:0!important;height:100%;margin:0;width:100%} .plyr:-webkit-full-screen video {height:100%} .plyr:-moz-full-screen {background:#000;border-radius:0!important;height:100%;margin:0;width:100%} .plyr:-moz-full-screen video {height:100%} .plyr:-ms-fullscreen {background:#000;border-radius:0!important;height:100%;margin:0;width:100%} .plyr:-ms-fullscreen video {height:100%} .plyr [hidden] {display:none!important} .plyr {font-family:Nunito,-apple-system,BlinkMacSystemFont,"Segoe UI",Roboto,"Helvetica Neue",Arial,"Noto Sans",sans-serif,"Apple Color Emoji","Segoe UI Emoji","Segoe UI Symbol","Noto Color Emoji"} .rounded .plyr,.rounded video {border-radius:.3125rem;overflow:hidden} code[class*=language-],pre[class*=language-] {color:#000;background:0 0;text-shadow:0 1px #fff;font-family:Consolas,Monaco,'Andale Mono','Ubuntu Mono',monospace;font-size:1em;text-align:left;white-space:pre;word-spacing:normal;word-break:normal;word-wrap:normal;line-height:1.5;-moz-tab-size:4;tab-size:4;-webkit-hyphens:none;-moz-hyphens:none;-ms-hyphens:none;hyphens:none} code[class*=language-] ::-moz-selection,code[class*=language-]::-moz-selection,pre[class*=language-] ::-moz-selection,pre[class*=language-]::-moz-selection {text-shadow:none;background:#b3d4fc} code[class*=language-] ::selection,code[class*=language-]::selection,pre[class*=language-] ::selection,pre[class*=language-]::selection {text-shadow:none;background:#b3d4fc} @media print {code[class*=language-],pre[class*=language-] {text-shadow:none} } pre[class*=language-] {padding:1em;margin:.5em 0;overflow:auto} :not(pre)>code[class*=language-],pre[class*=language-] {background:#f5f2f0} :not(pre)>code[class*=language-] {padding:.1em;border-radius:.3em;white-space:normal} .token.comment,.token.doctype {color:#708090} .token.punctuation {color:#999} .namespace {opacity:.7} .token.boolean,.token.constant,.token.deleted,.token.number,.token.property,.token.symbol,.token.tag {color:#905} .token.char,.token.inserted,.token.selector,.token.string {color:#690} .style .token.string,.token.entity,.token.operator,.token.url {color:#9a6e3a;background:rgba(255,255,255,.5)} .token.keyword {color:#07a} .token.function {color:#dd4a68} .token.important,.token.variable {color:#e90} .token.bold,.token.important {font-weight:500} .token.italic {font-style:italic} .token.entity {cursor:help} code[class*=language-],pre[class*=language-] {background:#eaedf2;color:#555a64;border:none;font-weight:400} article pre[class*=language-] {margin:1rem 0;border-radius:.3125rem} pre[class*=language-] {padding:1rem} .token.boolean,.token.constant,.token.deleted,.token.number,.token.property,.token.symbol,.token.tag {color:#e83e8c} [data-isotope-filters] .nav-link:not(.active) {color:#555a64;border-bottom-color:transparent} [data-isotope-filters] .nav-link:not(:hover):not(.active) {opacity:.5} .btn[data-toggle=tab][aria-selected=true] .icon [stroke]:not([stroke=none]) {stroke:#fff} .btn[data-toggle=tab][aria-selected=true] .icon [fill]:not([fill=none]) {fill:#fff} .btn[data-toggle=tab][aria-selected=false] {background-color:rgba(0,0,0,0);border-color:transparent;color:#555a64} .user img {border-radius:50%;max-height:2rem} .user [data-scribe="component:author"] {display:none} .timePosted>a {color:#adb5bd} .tweet {word-break:break-word} .pr-md-5,.px-md-5 {padding-right:3rem!important} .count-down-box .count-down-item {position:relative} .count-down-box>div {border-radius:6px;background-color:#fff;box-shadow:0 2px 10px rgba(0,0,0,.1)} .count-down-item::after {content:'';position:absolute;top:20px;height:15px;left:0;right:0;bottom:0;background-color:rgba(255,255,255,.5)} .buybtn {-webkit-background-size:cover;-moz-background-size:cover;-o-background-size:cover;background-size:cover;padding-top:10px;height:40px;width:100%;background-position:center 80%;background-repeat:no-repeat;background-size:90%} [data-aos][data-aos][data-aos-duration="50"],body[data-aos-duration="50"] [data-aos] {transition-duration:50ms} [data-aos][data-aos][data-aos-delay="50"],body[data-aos-delay="50"] [data-aos] {transition-delay:0} [data-aos][data-aos][data-aos-delay="50"].aos-animate,body[data-aos-delay="50"] [data-aos].aos-animate {transition-delay:50ms} [data-aos][data-aos][data-aos-duration="100"],body[data-aos-duration="100"] [data-aos] {transition-duration:.1s} [data-aos][data-aos][data-aos-delay="100"],body[data-aos-delay="100"] [data-aos] {transition-delay:0} [data-aos][data-aos][data-aos-delay="100"].aos-animate,body[data-aos-delay="100"] [data-aos].aos-animate {transition-delay:.1s} [data-aos][data-aos][data-aos-duration="150"],body[data-aos-duration="150"] [data-aos] {transition-duration:.15s} [data-aos][data-aos][data-aos-delay="150"],body[data-aos-delay="150"] [data-aos] {transition-delay:0} [data-aos][data-aos][data-aos-delay="150"].aos-animate,body[data-aos-delay="150"] [data-aos].aos-animate {transition-delay:.15s} [data-aos][data-aos][data-aos-duration="200"],body[data-aos-duration="200"] [data-aos] {transition-duration:.2s} [data-aos][data-aos][data-aos-delay="200"],body[data-aos-delay="200"] [data-aos] {transition-delay:0} [data-aos][data-aos][data-aos-delay="200"].aos-animate,body[data-aos-delay="200"] [data-aos].aos-animate {transition-delay:.2s} [data-aos][data-aos][data-aos-duration="250"],body[data-aos-duration="250"] [data-aos] {transition-duration:.25s} [data-aos][data-aos][data-aos-delay="250"],body[data-aos-delay="250"] [data-aos] {transition-delay:0} [data-aos][data-aos][data-aos-delay="250"].aos-animate,body[data-aos-delay="250"] [data-aos].aos-animate {transition-delay:.25s} [data-aos][data-aos][data-aos-duration="300"],body[data-aos-duration="300"] [data-aos] {transition-duration:.3s} [data-aos][data-aos][data-aos-delay="300"],body[data-aos-delay="300"] [data-aos] {transition-delay:0} [data-aos][data-aos][data-aos-delay="300"].aos-animate,body[data-aos-delay="300"] [data-aos].aos-animate {transition-delay:.3s} [data-aos][data-aos][data-aos-duration="350"],body[data-aos-duration="350"] [data-aos] {transition-duration:.35s} [data-aos][data-aos][data-aos-delay="350"],body[data-aos-delay="350"] [data-aos] {transition-delay:0} [data-aos][data-aos][data-aos-delay="350"].aos-animate,body[data-aos-delay="350"] [data-aos].aos-animate {transition-delay:.35s} [data-aos][data-aos][data-aos-duration="400"],body[data-aos-duration="400"] [data-aos] {transition-duration:.4s} [data-aos][data-aos][data-aos-delay="400"],body[data-aos-delay="400"] [data-aos] {transition-delay:0} [data-aos][data-aos][data-aos-delay="400"].aos-animate,body[data-aos-delay="400"] [data-aos].aos-animate {transition-delay:.4s} [data-aos][data-aos][data-aos-duration="450"],body[data-aos-duration="450"] [data-aos] {transition-duration:.45s} [data-aos][data-aos][data-aos-delay="450"],body[data-aos-delay="450"] [data-aos] {transition-delay:0} [data-aos][data-aos][data-aos-delay="450"].aos-animate,body[data-aos-delay="450"] [data-aos].aos-animate {transition-delay:.45s} [data-aos][data-aos][data-aos-duration="500"],body[data-aos-duration="500"] [data-aos] {transition-duration:.5s} [data-aos][data-aos][data-aos-delay="500"],body[data-aos-delay="500"] [data-aos] {transition-delay:0} [data-aos][data-aos][data-aos-delay="500"].aos-animate,body[data-aos-delay="500"] [data-aos].aos-animate {transition-delay:.5s} [data-aos][data-aos][data-aos-duration="550"],body[data-aos-duration="550"] [data-aos] {transition-duration:.55s} [data-aos][data-aos][data-aos-delay="550"],body[data-aos-delay="550"] [data-aos] {transition-delay:0} [data-aos^=fade][data-aos^=fade] {opacity:0;transition-property:opacity,transform} [data-aos^=fade][data-aos^=fade].aos-animate {opacity:1;transform:translateZ(0)} [data-aos=fade-up] {transform:translate3d(0,100px,0)} [data-aos=fade-down] {transform:translate3d(0,-100px,0)} [data-aos=fade-right] {transform:translate3d(-100px,0,0)} [data-aos=fade-left] {transform:translate3d(100px,0,0)} [data-aos^=zoom][data-aos^=zoom] {opacity:0;transition-property:opacity,transform} [data-aos^=zoom][data-aos^=zoom].aos-animate {opacity:1;transform:translateZ(0) scale(1)} [data-aos=zoom-in] {transform:scale(.6)} [data-aos=zoom-out] {transform:scale(1.2)} .avatar.avatar-xl {width:10.5rem;height:10.5rem} .col-3 {flex:0 0 25%;max-width:25%} .col-md {flex-basis:0;flex-grow:1;max-width:100%} .steps {counter-reset:steps} @media (min-width:768px) {.steps {padding-top:1.125rem} } .steps img:last-child,.steps p:last-child {margin-bottom:24px} .steps__item {margin-top:0!important;margin-bottom:0!important;padding-top:24px} .steps__item_start-list {padding-top:0} @media (min-width:768px) {.steps__item {padding-right:10px;border-left:2px solid rgba(37, 104, 239)} } .steps__item_without-border {border-color:transparent} .steps__item-heading .strong,.steps__item-heading b,.steps__item-heading strong {color:rgba(37, 104, 239)} @media (min-width:768px) {.steps__item-heading {position:relative;overflow:visible} .steps__item-heading::after {content:'';background-color:rgba(37, 104, 239);-webkit-border-radius:100%;border-radius:100%;width:12px;height:12px;position:absolute;top:.35em;right:auto;bottom:auto;left:-20px} .steps__item-heading_no-bullet::after {content:none} .steps__item-heading_start-list {margin-top:-.5em} .steps__item-heading_end-list {height:.5rem;margin-bottom:0!important} } .steps__counter::before {content:counters(steps, ".") ". ";counter-increment:steps;display:inline;font-size:inherit;color:rgba(37, 104, 239)} .form-control {display:block;width:100%;height:calc(1.5em + 1.375rem + 2px);padding:.6875rem .75rem;font-size:1rem;font-weight:600;line-height:1.5;color:#555a64;background-color:#fff;background-clip:padding-box;border:1px solid #eaedf2;border-radius:.1875rem;box-shadow:none;transition:border-color .15s ease-in-out,box-shadow .15s ease-in-out} @media (prefers-reduced-motion:reduce) {.form-control {transition:none} } .form-control::-ms-expand {background-color:transparent;border:0} .form-control:focus {color:#555a64;background-color:#fff;border-color:#2568ef;outline:0;box-shadow:none,0 0 0 .2rem rgba(37,104,239,.25)} .form-control::-webkit-input-placeholder {color:rgba(85,90,100,.5);opacity:1} .form-control::-moz-placeholder {color:rgba(85,90,100,.5);opacity:1} .form-control:-ms-input-placeholder {color:rgba(85,90,100,.5);opacity:1} .form-control::placeholder {color:rgba(85,90,100,.5);opacity:1} .form-control:disabled,.form-control[readonly] {background-color:#eaedf2;opacity:1} select.form-control:focus::-ms-value {color:#555a64;background-color:#fff} .form-control-lg {height:calc(1.5em + 2.375rem + 2px);padding:1.25rem 1rem;font-size:1.25rem;line-height:1.5;border-radius:.1875rem} select.form-control[multiple],select.form-control[size] {height:auto} textarea.form-control {height:auto} .form-group {margin-bottom:1rem} .form-row {display:flex;flex-wrap:wrap;margin-right:-8px;margin-left:-8px} .form-row>.col,.form-row>[class*=col-] {padding-right:8px;padding-left:8px} .was-validated .form-control:valid {border-color:#28a745;padding-right:calc(1.5em + 1.375rem);background-image:url("data:image/svg+xml,%3csvg xmlns='http://www.w3.org/2000/svg' viewBox='0 0 8 8'%3e%3cpath fill='%2328a745' d='M2.3 6.73L.6 4.53c-.4-1.04.46-1.4 1.1-.8l1.1 1.4 3.4-3.8c.6-.63 1.6-.27 1.2.7l-4 4.6c-.43.5-.8.4-1.1.1z'/%3e%3c/svg%3e");background-repeat:no-repeat;background-position:center right calc(.375em + .34375rem);background-size:calc(.75em + .6875rem) calc(.75em + .6875rem)} .was-validated .form-control:valid:focus {border-color:#28a745;box-shadow:0 0 0 .2rem rgba(40,167,69,.25)} .was-validated textarea.form-control:valid {padding-right:calc(1.5em + 1.375rem);background-position:top calc(.375em + .34375rem) right calc(.375em + .34375rem)} .was-validated .custom-control-input:valid~.custom-control-label {color:#28a745} .was-validated .custom-control-input:valid~.custom-control-label::before {border-color:#28a745} .was-validated .custom-control-input:valid:checked~.custom-control-label::before {border-color:#34ce57;background-color:#34ce57} .was-validated .custom-control-input:valid:focus~.custom-control-label::before {box-shadow:0 0 0 .2rem rgba(40,167,69,.25)} .was-validated .custom-control-input:valid:focus:not(:checked)~.custom-control-label::before {border-color:#28a745} .invalid-feedback {display:none;width:100%;margin-top:.25rem;font-size:.75rem;color:#dc3545} .was-validated .form-control:invalid {border-color:#dc3545;padding-right:calc(1.5em + 1.375rem);background-image:url("data:image/svg+xml,%3csvg xmlns='http://www.w3.org/2000/svg' fill='%23dc3545' viewBox='-2 -2 7 7'%3e%3cpath stroke='%23dc3545' d='M0 0l3 3m0-3L0 3'/%3e%3ccircle r='.5'/%3e%3ccircle cx='3' r='.5'/%3e%3ccircle cy='3' r='.5'/%3e%3ccircle cx='3' cy='3' r='.5'/%3e%3c/svg%3E");background-repeat:no-repeat;background-position:center right calc(.375em + .34375rem);background-size:calc(.75em + .6875rem) calc(.75em + .6875rem)} .was-validated .form-control:invalid:focus {border-color:#dc3545;box-shadow:0 0 0 .2rem rgba(220,53,69,.25)} .was-validated .form-control:invalid~.invalid-feedback {display:block} .was-validated textarea.form-control:invalid {padding-right:calc(1.5em + 1.375rem);background-position:top calc(.375em + .34375rem) right calc(.375em + .34375rem)} .was-validated .custom-control-input:invalid~.custom-control-label {color:#dc3545} .was-validated .custom-control-input:invalid~.custom-control-label::before {border-color:#dc3545} .was-validated .custom-control-input:invalid~.invalid-feedback {display:block} .was-validated .custom-control-input:invalid:checked~.custom-control-label::before {border-color:#e4606d;background-color:#e4606d} .was-validated .custom-control-input:invalid:focus~.custom-control-label::before {box-shadow:0 0 0 .2rem rgba(220,53,69,.25)} .was-validated .custom-control-input:invalid:focus:not(:checked)~.custom-control-label::before {border-color:#dc3545} .custom-control {position:relative;display:block;min-height:1.5rem;padding-left:1.75rem} .custom-control-input {position:absolute;z-index:-1;opacity:0} .custom-control-input:checked~.custom-control-label::before {color:#fff;border-color:#2568ef;background-color:#2568ef;box-shadow:none} .custom-control-input:focus~.custom-control-label::before {box-shadow:none,0 0 0 .2rem rgba(37,104,239,.25)} .custom-control-input:focus:not(:checked)~.custom-control-label::before {border-color:#2568ef} .custom-control-input:not(:disabled):active~.custom-control-label::before {color:#fff;background-color:#cbdbfb;border-color:#cbdbfb;box-shadow:none} .custom-control-input:disabled~.custom-control-label {color:#6c757d} .custom-control-input:disabled~.custom-control-label::before {background-color:#eaedf2} .custom-control-label {position:relative;margin-bottom:0;vertical-align:top} .custom-control-label::before {position:absolute;top:.125rem;left:-1.75rem;display:block;width:1.25rem;height:1.25rem;pointer-events:none;content:"";background-color:#fff;border:#cbd2df solid 1px;box-shadow:none} .custom-control-label::after {position:absolute;top:.125rem;left:-1.75rem;display:block;width:1.25rem;height:1.25rem;content:"";background:no-repeat 50%/50% 50%} .custom-radio .custom-control-label::before {border-radius:50%} .custom-radio .custom-control-input:checked~.custom-control-label::after {background-image:url("data:image/svg+xml,%3csvg xmlns='http://www.w3.org/2000/svg' viewBox='-4 -4 8 8'%3e%3ccircle r='3' fill='%23fff'/%3e%3c/svg%3e")} .custom-radio .custom-control-input:disabled:checked~.custom-control-label::before {background-color:rgba(37,104,239,.5)} .custom-control-label::before {transition:background-color .15s ease-in-out,border-color .15s ease-in-out,box-shadow .15s ease-in-out} @media (prefers-reduced-motion:reduce) {.custom-control-label::before {transition:none} } .modal-open {overflow:hidden} .modal-open .modal {overflow-x:hidden;overflow-y:auto} .modal {position:fixed;top:0;left:0;z-index:1050;display:none;width:100%;height:100%;overflow:hidden;outline:0} .modal-dialog {position:relative;width:auto;margin:.5rem;pointer-events:none} .modal.fade .modal-dialog {transition:transform .3s ease-out;transform:translate(0,-50px)} @media (prefers-reduced-motion:reduce) {.modal.fade .modal-dialog {transition:none} } .modal.show .modal-dialog {transform:none} .modal-dialog-scrollable {display:flex;max-height:calc(100% - 1rem)} .modal-dialog-scrollable .modal-content {max-height:calc(100vh - 1rem);overflow:hidden} .modal-dialog-scrollable .modal-header {flex-shrink:0} .modal-dialog-scrollable .modal-body {overflow-y:auto} .modal-dialog-centered {display:flex;align-items:center;min-height:calc(100% - 1rem)} .modal-dialog-centered::before {display:block;height:calc(100vh - 1rem);content:""} .modal-dialog-centered.modal-dialog-scrollable {flex-direction:column;justify-content:center;height:100%} .modal-dialog-centered.modal-dialog-scrollable .modal-content {max-height:none} .modal-dialog-centered.modal-dialog-scrollable::before {content:none} .modal-content {position:relative;display:flex;flex-direction:column;width:100%;pointer-events:auto;background-color:#fff;background-clip:padding-box;border:1px solid #eaedf2;border-radius:.3125rem;box-shadow:0 .75rem 1.5rem rgba(0,0,0,.09);outline:0} .modal-backdrop {position:fixed;top:0;left:0;z-index:1040;width:100vw;height:100vh;background-color:#000} .modal-backdrop.fade {opacity:0} .modal-backdrop.show {opacity:.5} .modal-header {display:flex;align-items:flex-start;justify-content:space-between;padding:1rem 1rem;border-bottom:1px solid #eaedf2;border-top-left-radius:.3125rem;border-top-right-radius:.3125rem} .modal-header .close {padding:1rem 1rem;margin:-1rem -1rem -1rem auto} .modal-body {position:relative;flex:1 1 auto;padding:1rem} .modal-scrollbar-measure {position:absolute;top:-9999px;width:50px;height:50px;overflow:scroll} @media (min-width:576px) {.modal-dialog {max-width:500px;margin:1.75rem auto} .modal-dialog-scrollable {max-height:calc(100% - 3.5rem)} .modal-dialog-scrollable .modal-content {max-height:calc(100vh - 3.5rem)} .modal-dialog-centered {min-height:calc(100% - 3.5rem)} .modal-dialog-centered::before {height:calc(100vh - 3.5rem)} .modal-content {box-shadow:0 .75rem 1.5rem rgba(0,0,0,.09)} } @media (min-width:992px) {.modal-lg {max-width:800px} } .tooltip {position:absolute;z-index:1070;display:block;margin:0;font-family:Nunito,-apple-system,BlinkMacSystemFont,"Segoe UI",Roboto,"Helvetica Neue",Arial,"Noto Sans",sans-serif,"Apple Color Emoji","Segoe UI Emoji","Segoe UI Symbol","Noto Color Emoji";font-style:normal;font-weight:600;line-height:1.5;text-align:left;text-align:start;text-decoration:none;text-shadow:none;text-transform:none;letter-spacing:normal;word-break:normal;word-spacing:normal;white-space:normal;line-break:auto;font-size:.875rem;word-wrap:break-word;opacity:0} .tooltip.show {opacity:.9} .tooltip .arrow {position:absolute;display:block;width:.8rem;height:.4rem} .tooltip .arrow::before {position:absolute;content:"";border-color:transparent;border-style:solid} .tooltip-inner {max-width:200px;padding:.25rem .5rem;color:#fff;text-align:center;background-color:#000;border-radius:.3125rem} .twauto {max-width:100%;height:auto} .atooltip {position:relative;display:inline-block;border-bottom:1px dotted #000} .tooltip-circle {cursor:pointer;width:1rem;height:1rem;border-radius:50%;font-size:.74375rem;font-weight:700;display:flex;align-items:center;justify-content:center} .atooltip .tooltiptext {visibility:hidden;width:250px;background-color:#000;color:#fff;text-align:center;border-radius:6px;padding:5px;left:10px;top:10px;position:absolute;z-index:1} .atooltip:hover .tooltiptext {visibility:visible} .comp-wrapper {position:relative;overflow:hidden} .comp-wrapper-img {position:absolute;top:0;height:100%;overflow:hidden;z-index:20;-webkit-transition:opacity .5s;-o-transition:opacity .5s;transition:opacity .5s} .comp-wrapper-img img {max-width:none!important;min-width:auto!important;width:auto!important;height:100%!important} .comp-wrapper:hover .comp-arrow-right {left:17px} .comp-wrapper:hover .comp-arrow-left {right:17px} .comp-divider {position:absolute;left:0;right:0;top:0;bottom:0;z-index:100} .comp-separator {position:absolute;-webkit-transform:translateX(-50%);-ms-transform:translateX(-50%);transform:translateX(-50%);width:4px;height:100%;background-color:#fff} .comp-arrows {cursor:col-resize;width:10px;height:48px;border-radius:8px;background-color:#2568ef} .comp-arrows,.comp-arrows:before {position:absolute;top:50%;left:50%;-webkit-transform:translate(-50%,-50%);-ms-transform:translate(-50%,-50%);transform:translate(-50%,-50%)} .comp-arrows:before {content:"";width:36px;height:100%} @media (max-width:767px) {.comp-arrows {display:none} } .comp-arrow-left,.comp-arrow-right {position:absolute;top:50%;-webkit-transform:translateY(-50%);-ms-transform:translateY(-50%);transform:translateY(-50%);border:6px inset transparent} .comp-arrow-right {left:14px;border-left:6px solid #2568ef} .comp-arrow-left {right:14px;border-right:6px solid #2568ef} .comp-sign {position:absolute;top:0;z-index:30;display:inline-block;-webkit-box-align:center;-ms-flex-align:center;align-items:center;border-radius:3px;letter-spacing:normal;color:rgba(0,0,0,.84);background:hsla(0,0%,100%,.7);margin:.625rem 0;-webkit-transition:opacity .5s;-o-transition:opacity .5s;transition:opacity .5s;font-size:1rem;line-height:3rem;height:3rem;padding:0 1rem} @media (max-width:767px) {.comp-sign__default {padding:0 .75rem;line-height:2.25rem;height:2.25rem} } @media (max-width:575px) {.comp-sign__default {font-size:.75rem;line-height:1.5rem;height:1.5rem} } .comp-sign__default_before {border-top-left-radius:0;border-bottom-left-radius:0;left:0} .comp-sign__default_after {border-top-right-radius:0;border-bottom-right-radius:0;right:0} .comp-sign__auto-moving_before {border-top-right-radius:0;border-bottom-right-radius:0;left:0;-webkit-transform:translateX(-99%);-ms-transform:translateX(-99%);transform:translateX(-99%)} .comp-sign__auto-moving_after {border-top-left-radius:0;border-bottom-left-radius:0;right:0;-webkit-transform:translateX(100%);-ms-transform:translateX(100%);transform:translateX(100%)} .fluid800 {width:800px} @media (max-width:992px) {.fluid800 {width:600px} } @media (max-width:576px) {.fluid800 {width:350px} } .comma-list {display:inline;list-style:none;padding:0} .comma-list li {display:inline} .comma-list li::after {content:", "} .smallfont {font-size:.9rem} /* nunito-600 - latin_cyrillic */ /* @font-face { font-family: 'Nunito'; font-style: normal; font-display:swap; font-weight: 600; src: url('/assets/fonts/nunito-v16-latin_cyrillic-600.eot'); src: local(''), url('/assets/fonts/nunito-v16-latin_cyrillic-600.eot?#iefix') format('embedded-opentype'), url('/assets/fonts/nunito-v16-latin_cyrillic-600.woff2') format('woff2'), url('/assets/fonts/nunito-v16-latin_cyrillic-600.woff') format('woff'), url('/assets/fonts/nunito-v16-latin_cyrillic-600.ttf') format('truetype'), url('/assets/fonts/nunito-v16-latin_cyrillic-600.svg#Nunito') format('svg'); } */ .downBig { width:32px !important; height:32px !important; } .downbutton { background-size: cover; float:left; width:24px; height:24px; background-image: url("data:image/svg+xml,%3Csvg xmlns='http://www.w3.org/2000/svg' width='24' height='24' viewBox='0 0 24 24' fill='none' %3E%3Cpath d='M5 12L12 19L19 12M12 5V18V5Z' stroke='%23fff' stroke-width='2' stroke-linecap='round' stroke-linejoin='round'%3E%3C/path%3E%3C/svg%3E"); } .downbuttonblack { filter:invert(80%) } .orderbutton { background-size: cover; float:left; width:24px; height:24px; background-image: url("data:image/svg+xml,%3Csvg xmlns='http://www.w3.org/2000/svg' width='24' height='24' viewBox='0 0 24 24' fill='none' class='navbar-toggler-open icon icon-sm $iconColor' %3E%3Cpath d='M10 21.5C10.5523 21.5 11 21.0523 11 20.5C11 19.9477 10.5523 19.5 10 19.5C9.44772 19.5 9 19.9477 9 20.5C9 21.0523 9.44772 21.5 10 21.5Z' stroke='%23fff' stroke-width='2' stroke-linecap='round' stroke-linejoin='round'%3E%3C/path%3E%3Cpath d='M18 21.5C18.5523 21.5 19 21.0523 19 20.5C19 19.9477 18.5523 19.5 18 19.5C17.4477 19.5 17 19.9477 17 20.5C17 21.0523 17.4477 21.5 18 21.5Z' stroke='%23fff' stroke-width='2' stroke-linecap='round' stroke-linejoin='round'%3E%3C/path%3E%3Cpath d='M2.5 2.5H5.5L8.2 14.9C8.2935 15.3586 8.54485 15.7698 8.91028 16.0621C9.27572 16.3545 9.73211 16.5094 10.2 16.5H17.9C18.3679 16.5094 18.8243 16.3545 19.1897 16.0621C19.5552 15.7698 19.8065 15.3586 19.9 14.9L21.5 6.5H7.1' stroke='%23fff' stroke-width='2' stroke-linecap='round' stroke-linejoin='round'%3E%3C/path%3E%3C/svg%3E"); } /* * Author: Piotr Elmanowski * Company: Frontoes.com * Distributed and described: css-workshop.com * v1.0 */ .hvrbox, .hvrbox * { box-sizing: border-box; } .hvrbox { position: relative; display: inline-block; overflow: hidden; max-width: 100%; height: auto; } .hvrbox img { max-width: 100%; } .hvrbox_background { width: 400px; height: 250px; background-size: cover; background-position: center center; background-repeat: no-repeat; } .hvrbox .hvrbox-layer_bottom { display: block; } .hvrbox .hvrbox-layer_top { opacity: 0; position: absolute; top: 0; left: 0; right: 0; bottom: 0; width: 100%; height: 100%; background: rgba(255, 255, 255, 1); color: #000; padding: 15px; -moz-transition: all 0.4s ease-in-out 0s; -webkit-transition: all 0.4s ease-in-out 0s; -ms-transition: all 0.4s ease-in-out 0s; transition: all 0.4s ease-in-out 0s; } .hvrbox:hover .hvrbox-layer_top, .hvrbox.active .hvrbox-layer_top { opacity: 1; } .hvrbox .hvrbox-text { text-align: center; display: inline-block; position: absolute; top: 50%; left: 50%; -moz-transform: translate(-50%, -50%); -webkit-transform: translate(-50%, -50%); -ms-transform: translate(-50%, -50%); transform: translate(-50%, -50%); width: 100%; padding-left: 10px; padding-right: 10px; } .hvrbox .hvrbox-text_mobile { border-top: 1px solid rgb(179, 179, 179); /* for old browsers */ border-top: 1px solid rgba(179, 179, 179, 0.7); margin-top: 5px; padding-top: 2px; display: none; } .hvrbox.active .hvrbox-text_mobile { display: block; } .hvrbox .hvrbox-layer_image { padding: 0; background: none; } .hvrbox .hvrbox-layer_slideup { -moz-transform: translateY(100%); -webkit-transform: translateY(100%); -ms-transform: translateY(100%); transform: translateY(100%); } .hvrbox:hover .hvrbox-layer_slideup, .hvrbox.active .hvrbox-layer_slideup { -moz-transform: translateY(0); -webkit-transform: translateY(0); -ms-transform: translateY(0); transform: translateY(0); } .rotate { animation: rotation 8s infinite linear; } @keyframes rotation { from { transform: rotate(0deg); } to { transform: rotate(359deg); } }
Make Your PC Lightning Fast and Well Optimized
Get rid of system clutter, clean up unused files and free space on hard disk, making it work as fast as it should.
免費下載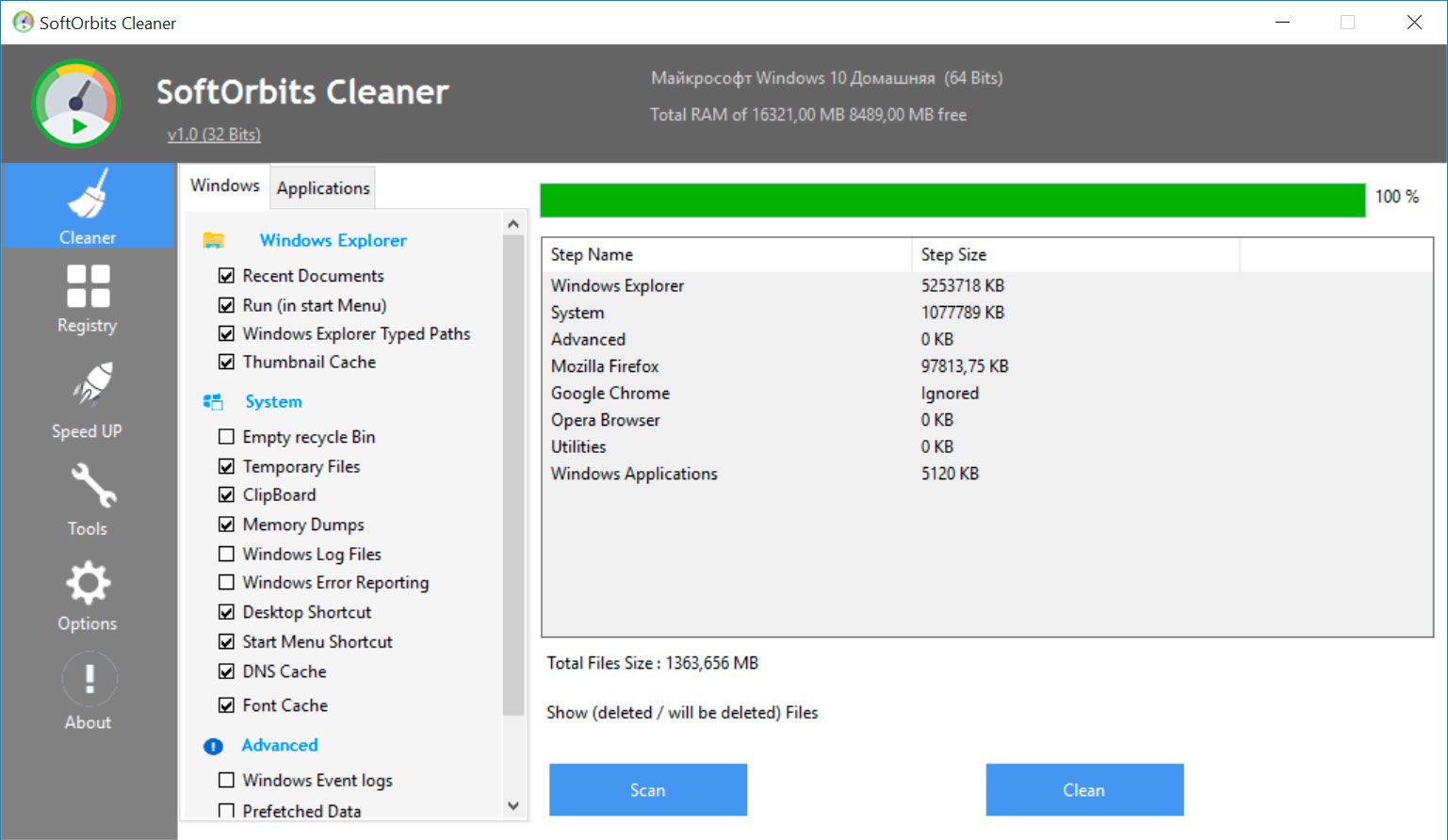 Prevent Your PC from Being Slowed Down
Have you noticed how your computer is often getting slower over time? You may not notice at first but then it strikes and you can't even check email without having to wait for minutes. SoftOrbits Cleaner handles the files that slow down your computer and deletes them for you.

Powerful Registry Cleaner at Your Fingertips

Even if you don't know what registry is for, you need to know that it should be clean to avoid crashing your PC. SoftOrbits Cleaner handles this for you and cleans up your registry automatically.
免費下載

Control System Startup
Programs have a tendency of running silently at startup without telling you about it, it's just a fact. Too many programs running at startup simultaneously will be slowing down your PC and you should be able to choose which ones can be allowed to run. With SoftOrbits Cleaner you can see the list of programs and disable those you don't need.